Early Bird
MSU Denver STEM programs participate in video showcase
Learn more about a collaborative effort to engage students and educators in the STEM fields.
May 5, 2020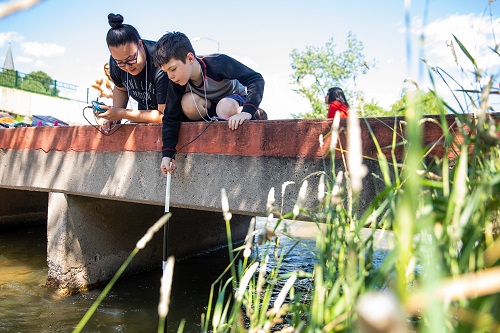 Tune in this week to the 2020 STEM for All Video Showcase. This year, the showcase features a video by Metropolitan State University of Denver's MULTI STEM program, a Community Approach to Engaging Students and Teachers in Effective STEM Education. The grant is housed in the Center for Advanced STEM Education.
The MULTI STEM video, "A Community-based Approach to Engaging Students and Teachers," documents three years of work on an Innovative Technology Experiences for Students and Teachers grant that represents a collaboration among MSU Denver, Community College of Denver, GLOBE and the University of New Hampshire. The group focused on broadening access to STEM pathways for students and families that are underrepresented in STEM programs. The video offers an overview of project components, including workshops for preservice and in-service elementary and secondary teachers, near-peer mentorship of K-12 students by college students, and STEM career expos.
"We are so proud of the work we've been able to accomplish during this grant," said Janelle Johnson, principal investigator. "In the video, you'll see that students and teachers have really run with what they learned from MULTI STEM, engaging in research that's meaningful to them and their communities."
The video also reflects the contributions of Rich Wagner, co-principal investigator for MSU Denver; Dawn Cummings, principal investigator for Community College of Denver; and Linda Sivertson, program manager.
The video will be available today through May 12, and viewers are encouraged to engage with the content by commenting and voting for their top-choice video.
Topics: Events, Save the date, STEM
Edit this page