Early Bird
Departments are encouraged to schedule mail pickup
The Administration Branch offers updated guidance and instructions for retrieving deliveries from AHEC Distribution Services.
May 4, 2020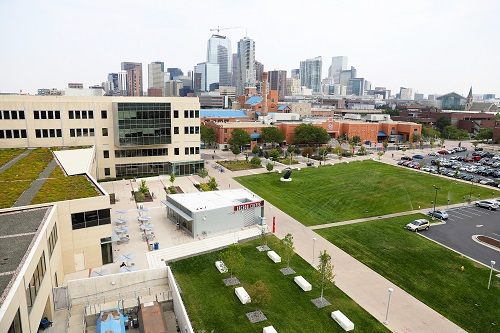 During the COVID-19 campus closure, AHEC Distribution Services has continued to receive mail and packages for University departments, offices and individual employees. As more and more mail and deliveries pile up, each branch and department is encouraged to pick up mail and packages as soon as possible.
Administrative instructions for coordinating mail pickup and package delivery
Mail = letters and magazines that would have gone into a mail slot (does not require signature).
Packages = letters or packages that require signature or large packages that require assistance to deliver.
All offices and departments must identify one employee to contact Joe Duran, Mail Services, at 303-556-3265 between 8 a.m. and 5 p.m. Monday thru Friday to determine if you have mail or packages.
Pickup hours are 10:30 a.m.-5 p.m. (allows time for morning sorting):
If you have mail, please stop by the rear of the Administration Building at 1201 5th St. (the rear of the building is the side with the loading dock facing the 5th Street garage). Ring the doorbell next to the large black door for service. You must present your MSU Denver Campus ID to retrieve mail and packages. You do not need prior approval to pick up mail, but if you plan to enter a building you must have prior approval by emailing facilities@msudenver.edu.
If you have larger packages, please coordinate a time with Duran and his team to meet them for delivery to your office area. In advance of coordinating a time, please email facilities@msudenver.edu to ensure that you have appropriate access to campus.
Please do not wait until campus reopens to coordinate package delivery, as package delivery will be delayed after campus reopens due to a backlog of packages in storage.
Departments and offices with mail to retrieve include:
Academic Affairs (JSSB) – 330 Box 48
3 packages
Accounting (Academic) (AD) – 500 Box 80
5 packages
Accounting Services and Payroll (JSSB) – 320 Box 98
3 packages
Alumni Relations (JSSB) – 410 Box 11
1 package
Anthropology and Sociology, Department of (CN) – 106 Box 28
15 packages
Applied Learning Center (AD) – 325 Box 7
1 package
Army ROTC 9th Street Park 1024 Box 8
5 packages
Art (AR) – 187 Box 59
15 packages
Athletics, Intercollegiate (AD) – 420 Box 9
9 packages
Aviation and Aerospace Science (SS) – 102 Box 30
1 package
Bursar, Office of the (JSSB) – 150 Box 92
5 packages
Business, College of (AD) - 540H Box 13
6 packages
CAMP (TIV) – 221 Box 41
10 packages
Campus Recreation PE Building (PE) – 108 Box 31
7 packages
CAVEA (JSSB) - 420
1 package
Center for Advanced STEM Education (CASE) (SI) - SI 1051 Box 24
4 pallets and 20 packages
Center for Individualized Learning (AD) – 360 Box 50
1 package
Center for Teaching, Learning and Design (CN) – 105 Box 19
6 packages
Chemistry, Department of (SI) – 3062 Box 52
2 pallets and 7 packages
Computer Information Systems, Department of (AD) – 590 Box 45
4 packages
Education, School of (WC) – 136 Box 21
6 packages
Electrical Engineering Technology (AES) – 300 Box 29
5 packages
English, Department of (KC) – 402 Box 32
2 packages
Equity Assistance Center Modular Office (MO) – 1 Box 63-A
1 package
Facilities Planning, Office of (JSSB) – 302 Box 67
3 packages
Financial Aid (JSSB) – 130 Box 2
23 packages
Health Professions, Department of (WC) – 239 Box 33
7 packages
History, Department of (CN) – 211 Box 27
22 packages
Hospitality, Events and Tourism, School of (HLC) – 209 Box 60
24 packages
Human Performance and Sport (PE) – 217 Box 25
7 packages
Human Resources (JSSB) – 310 Box 47
2 packages
Human Services, (WC) – 236 Box 12
6 packages
Industrial Design, Department of (AES) – 200 Box 90
5 packages
Intercollegiate Athletics (AD) – 420 Box 9
10 packages
Jordan Student Success Building (JSSB) – 310 Box 67
2 packages
Journalism and Media Production (CN) – 119 Box 35
6 packages
Math Department of (SI) – 1022 Box 38
1 pallet and 8 packages
Modern Languages, Department of (PL) – 360 Box 26
5 packages
Music, Department of (AR) – 287 Box 58
5 packages
New Student Orientation (JSSB) – 217 Box 74
22 packages
Nutrition, Department of (WC) – 240 Box 33N
2 packages
Political Science (KC) – 498 Box 43
12 packages
President's Office (JSSB) – 440 Box 1
6 packages
Professional Studies, College of (WC) – 133 Box 8
6 packages
Psychological Sciences (PL) – 220 Box 54
5 packages
Social Work Department (CN) – 201 Box 70
3 packages
Speech, Language, Hearing Sciences, (CN) – 120 Box 34
3 packages
Student Activities (TV) – 305 Box 39
10 packages
Student Support Services (JSSB) – 240 Box 40
5 packages
Study Abroad (International Studies, Office of) (AD) – 360 Box 41B
1 package
Testing Services, Office of (TV) – 347 Box 99
1 package
Theatre, Department of (AR) – 269 Box 93
40 packages
West Classroom (WC) – 236 Box 12
5 packages
Writing Center (KC) – 415 Box 32
5 packages
Topics: AHEC, Safety
Edit this page