Early Bird
Alum Danny Quatrochi wins scholarship named for 9/11 pilot
Quatrochi is the 27th Roadrunner to win the Capt. Jason Dahl Scholarship, named for the pilot of United Airlines Flight 93 that was hijacked Sept. 11, 2001.
May 28, 2020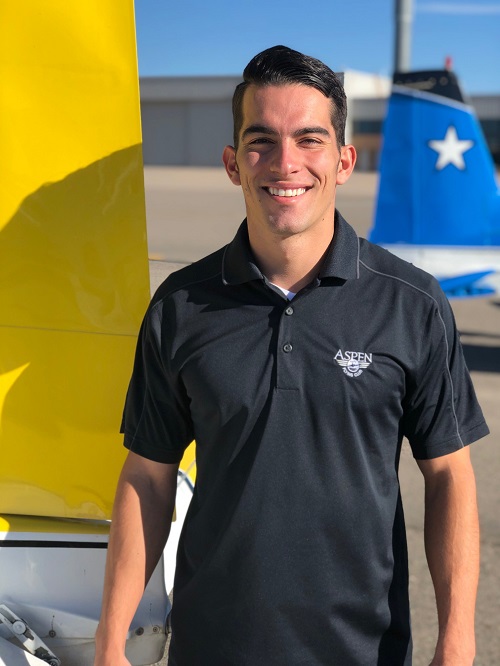 The winner of the 2020 Capt. Jason Dahl Scholarship, named for the pilot of United Airlines Flight 93 that was hijacked Sept. 11, 2001, is no stranger to Metropolitan State University of Denver or the Auraria Campus.
When Danny Quatrochi ('20 B.S., Aerospace Science) was just 4 years old, he attended the Auraria Early Learning Center preschool while his dad, Joe Quatrochi, Ph.D., taught for MSU Denver's Department of Human Performance and Sport. About eight years later, Danny joined his dad for Take Your Child to Work Day.
"Danny had said he was interested in planes and flying," Joe said. "So I connected him with my friend Kevin Kuhlmann (associate chair of Aviation and Aerospace Science), who showed him the flight simulator."
That experience cemented Danny's future. He enrolled at MSU Denver a few years later and graduated this month.
"All these years later, he came back. It's been surreal," his dad said.
During Danny's time on campus, he and his father saw each other occasionally, sometimes meeting at the Tivoli Student Union for lunch. "Having him here has been the highlight of my 30 years here," said Joe Quatrochi. "And I couldn't be more thrilled with him winning the scholarship. He's worked really hard."
"I'm humbled," Danny said. "I want to honor Captain Dahl's legacy by continuing to better myself and those around me, inside and outside of the cockpit."
The Dahl Scholarship Fund awards scholarships nationally to a number of students across a variety of colleges and universities, but MSU Denver counts the most winners to date and the highest amount of scholarship funds received, said Kevin Larson, the group's secretary. In total, 27 MSU Denver students have received $100,000 in scholarships since 2003.
"The students earned it – they're quality candidates who are always above average," Larson said. "We've created a legacy there with years and years of winners."
Larson says two former scholarship winners from MSU Denver, Justin Dean and Luke DeNooy, now serve on the Dahl board.
James Simmons, Ph.D., MSU Denver's Aviation and Aerospace Science scholarships advisor, said the Aviation Department "has been proud to be a part of the Dahl Scholarship since Day One."
Simmons adds that MSU Denver's aviation program is the nation's fifth-largest in enrollment and has been turning out skilled aviators since 1964.
"We have pilots in all the major airlines, along with regional carriers, air ambulances, specialty pilots, wildlife-spotting, all across the board," Simmons said. "And I know the scholarship is very helpful to the students because it goes directly to them so that they can apply it to their studies."
That's what Quatrochi did. His career plans: "Ultimately, I would like to fly for United Airlines," he said.
Fittingly, following Dahl's footsteps.
Topics: Aviation, Excellence, Student Success
Edit this page