Early Bird
MSU Denver welcomes Todd Thurman as director of Athletics
The former professional athlete and coach led the athletic program at Southwestern Oklahoma State University for 12 years.
May 22, 2020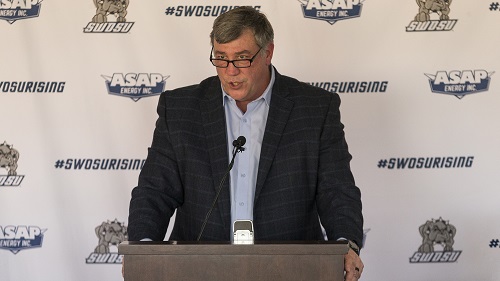 Todd Thurman has accepted the position of director of Athletics at Metropolitan State University of Denver. Thurman joins MSU Denver from Southwestern Oklahoma State University, where he has served as director of athletics since 2008.
"I would like to thank President (Janine) Davidson, the search committee and all who took part in the interview process for allowing me to join and serve the Roadrunner family," Thurman said. "MSU Denver has a great reputation for athletic and academic success, and I am very excited to work with our leadership to prepare the Athletic Department for a successful future!"
As AD at SWOSU, Thurman spearheaded efforts to found the Great American Conference and develop a new event center and athletics facilities, achieving $27 million in fundraising. Under his leadership, the university celebrated championships in golf, soccer, baseball, rodeo, volleyball and women's basketball. He also established initiatives such as reading programs, community cleanups and game-day pride events.
Thurman also served SWOSU as head coach of the men's basketball program from 2006-09. During that time, the team qualified for the conference tournament all three years and the program achieved a 100% graduation rate. Thurman was recognized as Lone Star Conference Coach of the Year in 2008 and was voted Administrator of the Year by the SWOSU student body in 2015.
"Todd's commitment to supporting department staff and encouraging students' academic and athletic development aligns perfectly with our values here at MSU Denver," Davidson said. "His experience as a successful coach, leader and mentor make him an ideal addition to the University community."
Joining MSU Denver amid a pandemic will make for an unusual transition, but Thurman is committed to quickly building relationships with employees and engaging student-athletes.
"I look forward to meeting with MSU Denver coaches and support staff face-to-face once it becomes safe to do so," Thurman said. "During this unprecedented time, our priority is constant communication with our student-athletes to make sure they remain focused on social distancing while also preparing for the future so we can hit the ground running once we are cleared to resume operations."
Thurman's coaching career began at Southern Nazarene University in 1987, and he has since held assistant-coach and/or head-coach positions at the University of Central Oklahoma, Oklahoma Christian University and Wayland Baptist University. He holds a bachelor's degree in business education from Southern Nazarene University and earned a master's degree in education, graduating summa cum laude, from the University of Central Oklahoma. Thurman also played professional basketball in Argentina and the United Kingdom.
Topics: Arrivals and departures, Athletics, Community, Excellence, Hiring
Edit this page