Early Bird
President Davidson joins discussion on the state of higher ed
Chronicle of Higher Education panel covers COVID-19's effects on learning, budgets and leaders' ability to plan.
May 21, 2020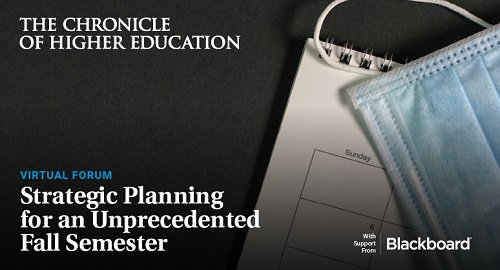 Metropolitan State University of Denver President Janine Davidson, Ph.D., participated Tuesday in "Strategic Planning for an Unprecedented Fall Semester," a virtual panel discussion with fellow education leaders on the impacts of COVID-19.
Moderated by Lee Gardner, a reporter with the Chronicle of Higher Education, the conversation also included Kent Devereaux, president of Goucher College; Brian Mitchell, founding partner of Academic Innovators and former president of Bucknell University; and representatives from Blackboard.
The conversation focused on the unprecedented challenges of planning for the fall semester through the evolving COVID-19 pandemic. As institutions across the country navigate new terrain, the pressure is on to deliver high-quality education, support faculty and staff, keep the community safe and plan cautiously. Leaders discussed short- and long-term pandemic responses, inclusive problem-solving, the rapid shift to online learning, funding concerns, safe return-to-campus scenarios and how the pandemic will change higher-education delivery.
In discussing MSU Denver's COVID-19 response, Davidson noted the value of pre-planning and communication.
"People are at lots of different levels of awareness, understanding and even emotional acceptance … and being empathetic and compassionate in our messaging — but also listening to them — (is key)," Davidson said.
Davidson also noted the strain on faculty and staff in putting most classes online, her desire to avoid decision-making whiplash, and the need to be honest about the challenges presented by COVID-19. She also outlined MSU Denver's work to provide students with much-needed technology, efforts to review and tier courses that may be delivered on campus and how the University is exploring use of classroom spaces — noting the value of welcoming all voices, perspectives and ideas to the conversation.
See the full conversation (registration required).
Topics: Community, Health, President Davidson, Safety
Edit this page