Early Bird
Celebrate Global Accessibility Awareness Day
Today marks the 9th annual GAAD, dedicated to web access for people with disabilities.
May 21, 2020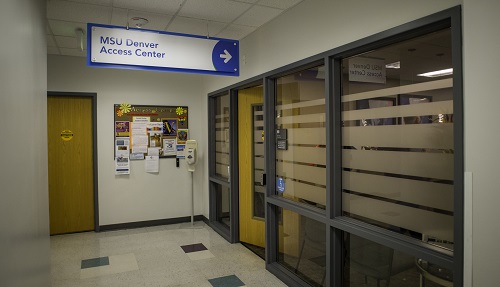 Started by web developer Joe Devon and accessibility professional Jennison Asuncion, Global Accessibility Awareness Day is dedicated to learning about and experiencing web accessibility. The Instructional Accessibility Group wishes to help the Metropolitan State University of Denver community ponder, understand and learn about web accessibility.
Why is there a Global Accessibility Awareness Day?
There are roughly 56.7 million people with disabilities in the United States in 2015. This accounts for over 17% of the country's population, and there are millions of others whose disability goes undiagnosed. Therefore, we can estimate that close to 20% of the population lives with disabilities.
MSU Denver has a diverse community; it helps set the University apart from other institutions in metro Denver. But that inclusive value is diluted when any portion of the community is unable to fully engage with the school.
Additionally, accessibility considerations will help all students better understand material. Captions on videos have been proven to help increase language skills for Multi Language Learners. It really is the rising tide that lifts all boats.
What is web accessibility?
Accessibility is the basic right that all people regardless of ability can interpret, use or access information, services and other online resources. The focus of the IAG is to help faculty create and utilize accessible sites, tools and materials. The IAG's work centers on common accessibility barriers and how to avoid them, with the goal of universal accessibility.
Accommodations, while promoting accessibility, should not be viewed as an end-all accessibility solution. Additionally, the highly individualized nature of accommodations means it's impossible to be prepared for every potential accommodation need for all students. At MSU Denver, the Access Center serves to establish such individual student accommodations.
What you can do about accessibility
Some people may think accessibility is not their concern. Many of our community members do not rely on accommodations, but we all rely on accessibility. Even if you don't benefit from such considerations, you can help build a culture of accessibility:
Consider how you would navigate a webpage with just a keyboard.
Put on the closed captions for a video and see if the captions are accurate or what might require captions (e.g., "[silence]" may be a required caption to make a movie or scene accessible).
Attend a GAAD event.
Sign up for an IAG training.
Read IAG guides and tutorials to learn more about how to create accessible content or remediate inaccessible content.
Set 5-3-1 Goals.
This will be the first year MSU Denver is officially participating in GAAD, and in honor of the occasion, the IAG will host a virtual happy hour today at 4:30 p.m. For more information, visit the Events and Workshops page of the Center for Teaching, Learning and Design.
Join us for an evening where we can discuss all things accessibility. Bring questions and thoughts, and we will bring tips, facts and trivia.
Email InstructionalAccessibility@msudenver.edu with any questions.
Topics: Access
Edit this page