Early Bird
New event details for Roadrunners Who Soar
There's still time to nominate staff and faculty members for three significant awards.
May 14, 2020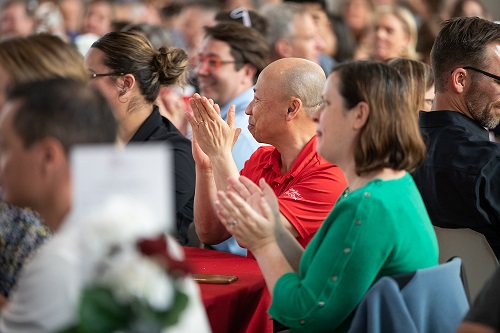 Nominations are still being accepted for three 2020 Roadrunners Who Soar Award categories.
The Universitywide Roadrunners Who Soar Awards recognize individual employees who are living our shared CADRE values, supporting student success and serving as ambassadors for Metropolitan State University of Denver in the larger community. Meanwhile, the team awards will highlight core and cross-functional teams that are innovatively pursuing shared goals and creating an environment of empowerment and accountability.
Honorees and their nominators will receive invitations to the Roadrunners Who Soar event, which has been rescheduled to Aug. 6, where award winners will be recognized among their peers and colleagues.
Nominate excellent staff members
The Staff Senate is accepting nominations to highlight amazing MSU Denver staff members. The Overall Staff Excellence Award recognizes outstanding work and is open to any staff member who has worked at MSU Denver for at least one semester.
Nominators should provide specific examples of the nominee's work, efforts, accomplishments, innovations and other reflections of the person's value, commitment and quality. Nominations should also reference how the nominee supports MSU Denver efforts to reimagine what's possible in higher education through the power of access, excellence, inclusion, innovation and collaboration to advance lives, opportunity and Colorado.
One winner will be selected in each of the following categories:
Administrator
Classified
Student employee
The awards will be presented at the Roadrunners Who Soar Awards ceremony, and nominations are due by May 31. Submit nominations today. Contact Metza Templeton for more information.
Nominate an outstanding faculty advisor
Nominations are also being accepted for the Outstanding Faculty Advisor Award.
Eligibility: Any individual whose primary responsibility is teaching and who spends a portion of their time providing academic advising to students. Nomination letters must:
Describe the nominee's strong and demonstrated knowledge of institutional academic policies and procedures when advising students.
Describe how the nominee delivers a developmental advising approach that embodies the mission and vision of MSU Denver.
Include examples of outreach or participation in academic-advising initiatives outside of an advising appointment. Examples include but are not limited to appointment campaigns, email outreach, phone-call outreach, workshops or department advising events, registration events, etc. Please note any use of advising technology in these efforts.
Include evidence of success in retention among the nominee's advisees or students in their classes. Please include the use of advising technology (e.g., SSC Navigate, Degree Works or other systems) to document and/or track success.
Please submit your nominee's contact information and specific examples of how your nominee meets each award criterion to Stephanie Allen, director of advising systems, no later than May 26.
Nominate an outstanding department chair
The Chair Excellence Award recognizes one chair each year who has done demonstrably excellent work in his or her role as chair. The nominee must currently be a department chair and must have completed one year or more as chair to be eligible. The successful nominee is one who demonstrates success in at least one of the following areas:
1. Demonstration of outstanding leadership
2. Demonstration of curricular innovation
3. Promotion of student success
4. Overall contribution toward achievement of the college and/or University mission
Topics: Award, Excellence
Edit this page