Early Bird
OWOW Center launches video series
The weekly episodes look at water issues through the lens of history, agriculture, sustainability and more.
May 14, 2020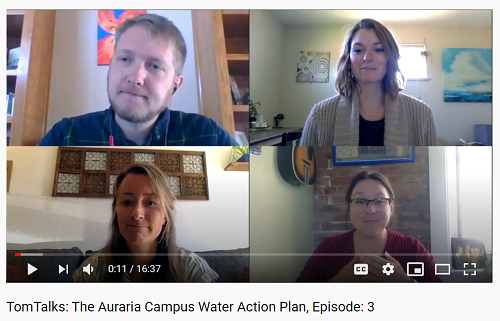 The One World One Water Center at Metropolitan State University of Denver launched its first TomTalk on April 10 to create learning opportunities and help the campus community and its many partners stay connected through the COVID-19 pandemic. Named for OWOW Center Director Tom Cech, the educational videos feature OWOW staff members and campus and industry experts discussing and dissecting the many facets of water in Colorado and around the world.
"The coronavirus has impacted our ability to gather, engage, and learn as we once did. So early into quarantine, the OWOW Center sat down to brainstorm how we can continue to create, educate and share," said Nona Shipman, OWOW Center associate director, who spearheaded the series' development. "Part of the brainstorming was a long list of ideas for TomTalks videos. We're really excited about the videos we've released so far and have a lot more in store for the future, including an Italy mini-series, documentary film reviews, and partnering with groups all over the state."
The first episode touched on OWOW's mission and continued partnership with the Water Center in Perugia, Italy. Cech compares and contrasts the Italian city's ancient aqueducts with Colorado's frontier canals, while also covering modern-day water systems and precipitation patterns as well as water management and conservation best practices.
In Episode 2, Matthew Makley, Ph.D., professor, History, joins Cech to discuss the Hohokam Native American tribe and the Salt River Valley of Arizona. Generations ago, the tribe developed a sophisticated network of irrigation canals that formed the blueprint for the community's modern-day water-management system.
Shipman takes the helm for the third episode to discuss the Auraria Campus Water Action Plan with a panel of campus experts. The plan aims to establish the campus as a model of sustainable water management and use.
The OWOW Center strives to prepare an educated, empowered, solution-oriented Colorado populace to protect and preserve our water resources. Follow the OWOW Center on Twitter, Instagram and Facebook to get a heads-up on new episodes and to submit questions and comments.
Topics: Sustainability
Edit this page