Early Bird
MSU Denver establishes Dreamer Emergency Fund
The fund aims to raise at least $300,000 to support DACA and undocumented students excluded from CARES Act aid.
May 14, 2020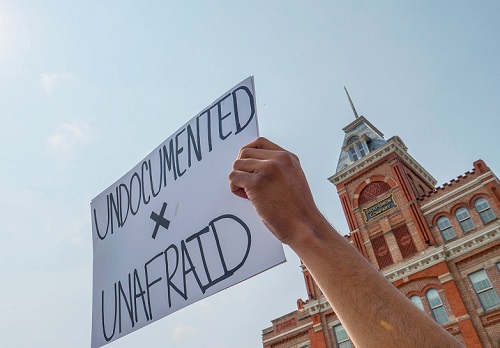 The recently passed CARES Act allocated $7.2 million in aid to Metropolitan State University of Denver students, but it excluded an already-vulnerable population: DACA recipients and undocumented students. These groups are often referred to as Dreamers, referencing the proposed 2001 DREAM Act and President Barack Obama's 2012 executive order establishing temporary protections for youth brought to the U.S. without documentation.
Based on financial-aid data, MSU Denver is home to 381 Dreamers and/or undocumented students; however, as students often underreport their status, research has shown that that number could be closer to 500 students – more than any other university in Colorado.
In response, MSU Denver has established the Dreamer Emergency Fund specifically to support students excluded from CARES Act aid in continuing with their education. The goal is to raise at least $300,000, with an ultimate goal of $500,000, to ensure that Dreamers and undocumented students can persist to degree completion.
The effort was spearheaded by Trustees Barb Grogan (chair), Russell Noles (vice chair) and Mario Carrera as well as Foundation Board member Mark Cordova, former Trustee Michelle Lucero and community partner Patricia Barela-Rivera.
"MSU Denver Dreamer students are studying to become engineers, entrepreneurs, teachers, police officers and health care professionals – just to name a few," Grogan said. "Our Colorado workforce needs these students, and these students urgently need our advocacy and financial support."
The Dreamer Emergency Fund will provide direct relief via automatic grants to undergraduate and graduate Dreamer students with demonstrated financial need. Recipients can use the funds for housing, tuition, student-loan payments, books and other needs. Fund distribution will mirror CARES Act protocol to ensure equity.
To contribute to the Dreamer Emergency Fund, visit www.msudenver.edu/giving and select "Dreamer Emergency Fund" from the drop-down menu. Donors can also mail a check made out to "MSU Denver Foundation" with "Dreamer Emergency Fund" in the memo section. Send to:
MSU Denver Foundation
Campus Box 14, P.O. Box 173362
Denver, CO 80217-3362
Additionally, MSU Denver will allocate some of the funds raised to the Student Emergency Fund and designate them for Dreamer and undocumented students. Those students can submit the standard SEM application for assistance with needs that fall outside of the direct relief grant program but could otherwise interrupt their academic progress, such as car repairs, health care costs and emergency housing costs.
"Dreamers and undocumented students are already among our most at-risk student population due to precarious legal status and family income," said Michael Benitez, Ph.D., vice president for Equity and Inclusion. "Additionally, students and their families are not eligible for many other social-safety-net programs such as unemployment benefits or food stamps. They also did not receive the stimulus funds that Congress approved to support American families through the COVID-19 crisis. This dire financial situation could mean that students consider stopping out or ending their educational journey altogether."
Compounding DACA and undocumented students' financial anxiety, the U.S. Supreme Court will rule soon on whether to allow the Trump administration to end the DACA program. If the court agrees with the administration, DACA students will lose their ability to work and may face deportation.
Colorado is home to approximately 15,000 DACA recipients, whose economic and civic contributions increase significantly with the completion of a higher-education degree. Additionally, the Center for American Progress estimates that removing all undocumented immigrants from the U.S. would reduce the country's gross domestic product by $434 billion per year.
Learn more about MSU Denver's advocacy for and support of Dreamer and undocumented students.
Topics: Academics, Advancement, Board of Trustees, Collaboration, Community, DACA, Funding, Student Success
Edit this page