Early Bird
Faculty Senate recap
Welcomes and farewells, elections and end-of-year committee reports cap off the last meeting of the semester.
May 13, 2020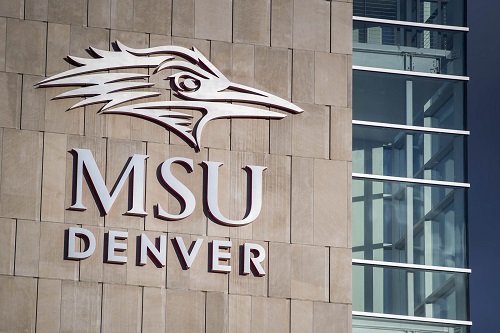 Katia Campbell, Ph.D., Metropolitan State University of Denver Faculty Senate president (communication studies), kicked off the final Senate meeting of 2019-20 by acknowledging Vicki Golich, Ph.D., outgoing provost and executive vice president of Academic Affairs, and surprising her with artwork from BFA art-education student Elle-Han Collings.
"I can't tell you how much I've enjoyed working with (MSU Denver faculty members) over the years," Golich said. "We've come so far, and I appreciate how many things we've achieved together. It really does take a village."
Sen. Jo Bailey, Ph.D., (social work) led the recessed assemblage through Executive Committee elections. Campbell, Vice President Liz Goodnick, Ph.D., (philosophy) and Secretary Bill Carnes, D.M., (management) were all reelected to their positions by acclamation.
University President Janine Davidson, Ph.D., also stopped by to provide an update on fall planning procedures and ongoing budgetary concerns highlighted in the recent Board of Trustees meeting.
"Our posture moving forward is safety first, then how we're able to optimize in a suboptimal environment to deliver coursework to as many students as possible," she said. "It's an all-hands-on-deck approach. And things are rough, but I'm optimistic we're positioned well to rebound out of this in a potentially strong way."
Campbell echoed this in a gratitude-filled send-off for the senators at the conclusion of the meeting.
"Welcome to our new members," she said. "I can't thank you all enough for the incredible work you do – I hope you all stay healthy and safe and have a great summer."
Other items of business:
The Senate welcomed new Faculty Trustee Bethany Fleck-Dillen, Ph.D., (psychology), along with new Affiliate Sens. Joe Goldhammer, J.D., (management), Steve Petrie (accounting) and Erienne Romaine (English).
Golich provided an overview related to students' ability to apply courses to general studies and major-based credit (otherwise known as "double-dipping," which is currently not allowed); she requested that the Senate revisit the policy in the fall to assist in a possible transition period for any changes to take effect in the 2022-23 catalog.
Zsuzsa Balogh, Ph.D., (civil-engineering technology), on behalf of the Curriculum Committee, provided a second read and vote establishing guidelines for Honors Program curriculum review and defining delivery methods for online/hybrid courses outlined in the previous Senate meeting; both measures passed.
End-of-year committee reports included:

Faculty Welfare Committee Representative Bob Schatz, Ph.D., (psychology) reviewed the group's adjusted teaching workload proposal of a reduction from 24 credit hours to 18 credit hours; the Senate agreed to advance the discussion after floor discussion and a straw vote that was overwhelmingly in favor of the measure. Schatz also discussed advocacy work for first-year faculty and strengthening the connection with the faculty union.
Rolling off as chair of the Academic Policies Committee, Jessica Weiss, Ph.D., (art history) recapped the work that included four policies advancing for board-level approval and noted future work on the transfer of earned credits.
Andrea Borrego, Ph.D., (criminal justice and criminology) reviewed the work of the Diversity Committee, involving language revision for the Wilton Flemon post-doctoral fellowship and collaboration with Michael Benitez, Ph.D., vice president for Diversity and Inclusion, to examine operationalizing results from the equity survey.
Gabrielle Katz, Ph.D., (earth and atmospheric sciences) discussed the more than 100 proposals for new or renewed designations reviewed by the General Studies Committee.
The Multicultural Curriculum Review Committee approved 11 of 12 submitted courses, with the last one under review, along with approving seven of 20 transfer-course requests for multicultural designation and beginning to look at defining the requirement, reported Carnes.
Chadwin Kendall (aerospace) highlighted the work of the Student Affairs Committee to collaborate with the University's Student Affairs division and Student Government Assembly, particularly during the COVID-19 pandemic-induced move online and continuing to collaborate on items tabled until fall.
The Professional Leave Committee processed and ranked 29 sabbatical applications for the 2019-20 academic year, while the Reappointment, Tenure and Promotion Committee evaluated submitted portfolios before anonymized voting and uploading letters into Digital Measures.

Committee at-large positions filled included Romaine for Academic Policy; Petrie for Budget; Marin Abell (communication design), Kimberly Klimek, Ph.D., (history) and Summer Trentin, Ph.D., (art) for Curriculum; and David Mitchell, Ph.D., (English) and Nursen Konuk, Ph.D., (mathematics and computer science) for general studies. Those interested in serving in remaining open seats should contact Maggie Thulson.
Topics: Faculty Senate, Inclusive leadership
Edit this page