Early Bird
Professors earn high marks in remote teaching
With the support of the CTLD, ITS and Online Learning teams, educators and students are persevering through the pandemic.
May 12, 2020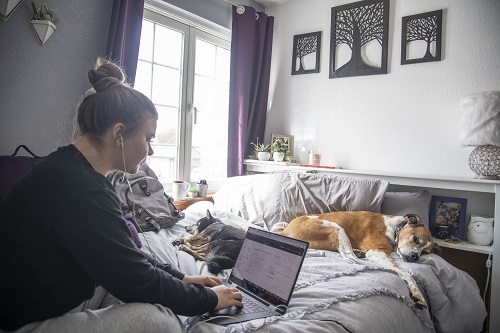 When the COVID-19 pandemic upended typical teaching and learning activities, Metropolitan State University of Denver sprang into action. Creative and tenacious teams from across the University collaborated and innovated to keep learning alive.
"There were no parallels to draw from, no manuals for conducting operations on this scale, no test runs to learn where the bumps in the road might be in transitioning to online learning," said Alex McDaniel, associate director of instructional design at the Center for Teaching, Learning and Design.
Regardless, McDaniel says, MSU Denver approached the crisis as a marathon, not a sprint, and phased in virtual teaching and supports.
"The transition was smooth because of our talented faculty and staff and, of course, the most tenacious students in the state," McDaniel said. "At first, some faculty were naturally leery … but that passed, and they kept the special sense of community we have here and took human-centered instruction with them online."
McDaniel says the sudden shift reinforced for him that teaching and learning come not from specific locations but from quality people and passion. "At MSU Denver, we excel in both," he added.
Examples of this abound.
Sam Jay, Ph.D., associate professor, Communication Studies, says it was vital to keep the focus on students.
"We recognized that not all students would have access to fast internet, so we adjusted due dates, assignments, etc.," Jay said. "We also continually reached out to individual students and entire classes so students could ask questions, discuss issues, etc."
Ann Obermann, Ph.D., associate professor, Social Work, logs in 15 minutes early for her online classes and often stays late to better connect with her students, answer their questions, meet their pets and give students an opportunity for conversation.
"I've found that to be super-helpful in connecting with students, clarifying assignments and just giving time for informal learning," said Obermann, who also learned that quieter students participated more in online classes, particularly when she used the website Flipgrid and software Hypothes.is.
David Ruch, Ph.D., professor, Applied and Theoretical Mathematics, tapped new technologies including Microsoft Teams to offer asynchronous and synchronous class sessions.
Maria Cattell, Ph.D., lecturer, Biology, uses multiple computers, whiteboards and Microsoft Teams to hold group activities. She also recorded sessions for students who missed the live versions, as did Elizabeth Goodnick, Ph.D., associate professor, Philosophy, who offered a hybrid of synchronous and asynchronous classes.
Matt Griswold, Ed.D., associate vice president, Online Learning, praises the professors' creativity and MSU Denver's Instructional Design Group, which began developing trainings weeks before the move to remote learning.
Griswold says more than 70% of faculty used the trainings, which are also available for summer course development.
"We also had over 97% of students actively engaged in their spring courses," Griswold added.
Other encouraging data from the spring semester show that to date:
The msudenver.edu/ready page received 12,332 page views.
Faculty participated in 656 hours of self-directed training.
Faculty further participated in 340 hours of one-on-one training.
The IDG resolved 325 tickets.
The CTLD is offering new support. Visit msudenver.edu/ready to learn more.
Topics: Academics, Best practices, Center for Teaching, Learning and Design, Excellence, Instructional Design, Online Learning
Edit this page