Early Bird
Register for Roadrunners Virtual Colfax Weekend
Stretch your quads and lace up your running shoes to support the Student Emergency Fund.
May 12, 2020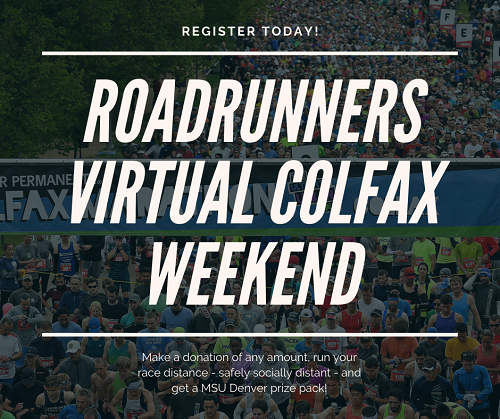 Even though the 2020 Colfax Marathon has been canceled due to COVID-19, you can still run, get fit and raise money for the Student Emergency Fund by joining the Metropolitan State University of Denver Alumni Association for Roadrunners Virtual Colfax Weekend.
Register for Roadrunners Virtual Colfax Weekend by visiting the official registration page to make a gift to the Student Emergency Fund (any amount), and select the distance you plan to run – 5K, 10-mile, half-marathon or marathon.
The MSU Denver Alumni Association will match the first $5,000 raised for the Student Emergency Fund!
Runners will receive an MSU Denver race bib via email to print at home, in addition to a prize pack for completing their race. The longer the run, the larger the prize pack! Get credit for participating in Roadrunners Virtual Colfax Weekend by:
Completing your registered distance during Colfax Weekend, May 16-17.
Running, jogging or walking wherever you can safely complete your race commitment – on the road, a trail, a track or your treadmill at home.
Tracking your distance on a mobile app or smartwatch.
Taking a photo of your mileage when you are finished.
Sharing your success on social media by tagging us @msudenveralumni and using the hashtag #msudenvercolfaxteam or by emailing us at alumni@msudenver.edu.
Since March 16, more than 120 students have received one-time emergency assistance from the Student Emergency Fund. The financial hardships brought on by COVID-19 make your contributions more urgent than ever. When you register for the Roadrunners Virtual Colfax Weekend today, we can provide even more students with the support they need to pursue their educational goals.
We can't wait for you to Run With Us!
For more information, contact Brandi Rideout, director of alumni relations.
Topics: Alumni, Community, Funding, Student Success
Edit this page