Early Bird
Master of Health Administration program wins prestigious award
The honor recognizes the dedication, expertise and contributions of faculty and staff.
April 21, 2020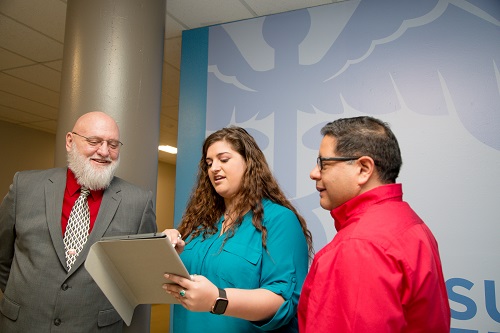 Metropolitan State University of Denver's Master of Health Administration program has won the New Program of the Year award from the Association of University Programs in Health Administration, a nonprofit that works to improve health care delivery, management and education.
The AUPHA, which also serves as the accrediting body in health-administration education around the world, chose the MHA because of the program's participation in the field, leadership, committee involvement and other contributions.
MHA faculty members Jeff Helton, Ph.D.; Amy Dore, Ph.D.; and Erin Seedorf, Ph.D., serve on various AUPHA committees and frequently present for the association.
"This is a huge award for the MHA and MSU Denver," said Cindy Busch, MHA program assistant. "We were chosen from all the universities and colleges in the U.S. to receive this."
Garrett Chism, MHA director, says the MHA's mission aligns with the AUPHA's work, so the MHA naturally supports it.
Chism adds the award recognizes the "dedication and expertise" of the MHA's faculty and staff and communicates to all students the MHA's quality education.
Several MHA faculty and staff members were set to attend the AUPHA's annual awards ceremony in June in Salt Lake City to receive the award, but the event has been canceled due to the COVID-19 pandemic.
The MHA program began at MSU Denver in 2017 and is currently seeking accreditation from the Commission on Accreditation of Healthcare Management Education, which advances quality in health care-management education globally. The MHA expects a successful review in 2021. The program is also considering developing several concentrations, including information technology, human resources, aging services, finance, performance improvement and strategy.
Chism says he's optimistic about the MHA's and health care's future. "Health care continues to outpace most other industries. We believe the combination of a high-quality education coupled with current and future industry opportunity will accelerate growth in the MHA program," he said.
The MHA preps students for leadership careers in health care and caters to working adults with full-time (two years), part-time (two-plus years) and accelerated (one-year) options.
"The MHA program is also accessible," Chism said. "We use the flexibility of online learning with live interaction with professors. Students take 13 classes that are eight weeks long and finish with a residency or thesis."
He adds that one of the MHA's strengths is student diversity. "We have soldiers, nurses, construction workers, engineers, doctors, paralegals, even a priest. That provides a unique and comprehensive experience."
Topics: Academics, Award, Excellence, Health
Edit this page