Early Bird
MSU Denver to host a free online movie screening
To recognize Autism Awareness Month, join the University community to watch "Autism Goes to College."
April 20, 2020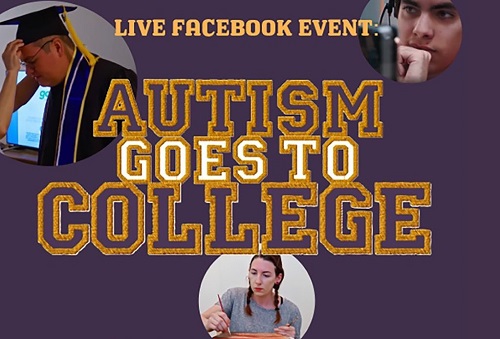 April is Autism Awareness Month. This year, Metropolitan State University of Denver is highlighting the college experiences of adults with autism-spectrum disorders.
Autism-spectrum disorder is a neurodevelopmental disorder. According to the Centers for Disease Control and Prevention, one in every 54 children in the U.S. is diagnosed with ASD, and MSU Denver serves about 100 students with an ASD diagnosis. Although many adults with ASD excel in a wide range of skills, college environments can be challenging because of reduced structure, social and communication demands, and the increased need to manage time effectively.
To learn more about the strengths and challenges of adults with ASD in college, please join the Department of Speech, Language, Hearing Sciences (SLHS) and the Access Center to watch "Autism Goes to College."
Free screening of "Autism Goes to College"

April 23

5 p.m.
For more information, please sign up for the Facebook event or contact the Autism Goes to College team at autismgoestocollege@gmail.com.
The event is sponsored by the MSU Denver Diversity Initiative Grant and is being held in partnership with the University of California, Riverside.
To learn more about specialized services available to MSU Denver students with autism, visit the Integrated Supports for Students With Autism in College website. The ISSAC program is recruiting students in any discipline/major to serve as peer mentors. Please contact Siva priya Santhanam, Ph.D., assistant professor, SLHS, if you are interested.
Students in the SLHS major aspire to become speech-language pathologists or audiologists who work with individuals with speech, language and hearing disorders across their lifespan. Audiologists and SLPs work in a variety of clinical settings, including schools, hospitals, skilled-nursing facilities, home health, university/community clinics and private practice.
Learn about the efforts of MSU Denver's Faculty Learning Community on Supporting Learning in Students With Autism, which is supported by the Center for Teaching, Learning and Design and the Access Center.
Topics: Academics, Access, Events, Save the date, Student Success
Edit this page