Early Bird
Nominations for Distinguished Service Awards are open through April 28
Help recognize outstanding and dedicated MSU Denver employees.
April 16, 2020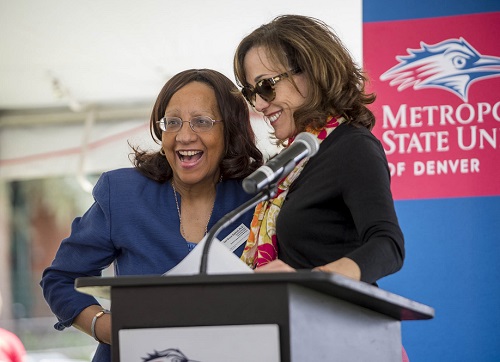 In the past month, Metropolitan State University of Denver has pulled together and continues to do a great job serving students. It has been a tumultuous time, with the COVID-19 pandemic leading to many unprecedented changes in the way we work and live. In light of these events, it's more important than ever to recognize hardworking and committed Roadrunners.
Nominations for the Distinguished Service Awards are now open. These accolades were established in 1977 to recognize employees who have made extraordinary contributions as well as demonstrated exceptional dedication to MSU Denver's mission over at least 10 years.
Awards include the President's Award; Distinguished Service Awards for classified staff, administration and faculty; and the Extraordinary Service Award.
This is the time to commend a colleague for their longevity, history of excellence, and service to students and the MSU Denver mission. Learn more, and submit your nominations, on the Distinguished Service Awards webpage. The deadline for submissions is April 28.
While the winners are typically announced at the annual faculty and staff appreciation BBQ, the University is working on creative ways to bestow these awards during a virtual event. Please stay tuned to the Early Bird for more details.
Topics: Award, Community, Events, Excellence, Save the date
Edit this page