Early Bird
Invest in your teaching and earn a certificate
Apply now to join MSU Denver's next Association of College and University Educators cohort.
April 15, 2020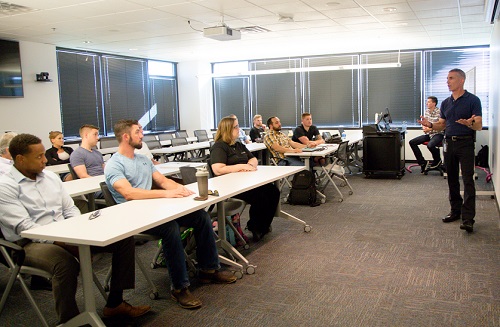 Metropolitan State University of Denver faculty members are invited to apply for the upcoming Association of College and University Educators course by May 22. Successful applicants will be enrolled in Cohort B, which will launch this fall and run through the 2020-21 academic year.
This course represents an unprecedented investment by MSU Denver in the quality of teaching at the institution. The Center for Teaching, Learning and Design is excited about this partnership and the launch of Cohort B this fall. Fewer than 30 spots are available for Cohort B, and all full-time faculty, including tenure-track and Category II, may apply. The application is also open to affiliate faculty who have taught at MSU Denver for more than one year and will teach nine credits during the fall 2020 semester.
The ACUE Course on Effective Teaching Practices prepares college instructors to use research-based techniques shown to help students succeed. It addresses essential pedagogical skills and knowledge in five units of study: Designing an Effective Course and Class, Establishing a Productive Learning Environment, Using Active Learning Techniques, Promoting Higher Order Thinking and Assessing to Inform Instruction and Promote Learning. The course also leads to a nationally recognized Certificate in Effective College Instruction, endorsed by the American Council on Education.
The ACUE course begins with a three-hour course launch tentatively scheduled for Aug. 10 from 9 a.m. to noon, followed by lunch. After that, participants will commit two to three hours per week to the course, finishing by the end of the spring 2021 semester.
Faculty participating in Cohort A are nearly finished with their work, and some have even completed early. Participants note that the course has been a great experience that will make a real difference in their instruction.
"I believe I benefited from this course," said Andrew Thangasamy, Ph.D., associate professor, Political Science. "In particular, the sections on how to help underprepared students were eye-opening."
"I will now have a virtual plethora of innovative and advanced pedagogical techniques to draw upon, thanks to ACUE," added Andy Traver, professor of practice, Criminal Justice and Criminology.
Want to learn more about the ACUE program?
Please contact Meredith Flynn, Ph.D., associate director of teaching and learning, ACUE facilitator, with any questions.
Topics: Best practices, Center for Teaching, Learning and Design, Excellence, Student Success
Edit this page