Early Bird
Roadrunners TV helps fans relive sports highlights
Tired of Netflix? Tune in to some of MSU Denver's greatest games instead.
April 14, 2020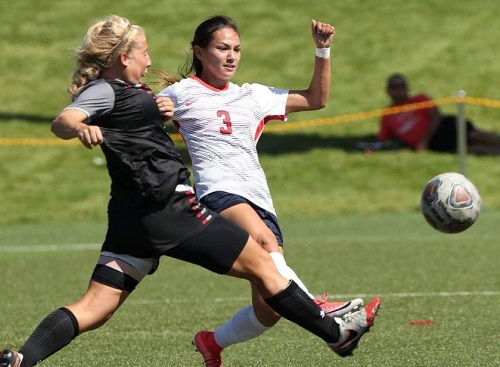 With the spring and summer sports seasons canceled to help flatten the COVID-19 curve, Metropolitan State University of Denver has found a digital way to keep the fandom alive.
Roadrunners TV provides an outlet for fans, friends and families to enjoy great moments in MSU Denver soccer, volleyball, basketball, softball and baseball as well as past editions of Coaches Corner, season highlights and interviews. Follow @RoadrunnersTV on Twitter, visit the portal page or search OnDemand to see what's in the lineup.
"We want to give (folks) a place to go where they don't have to think about what is going on in the world — at least for a short time," said Eric Lansing, Athletics media producer. "We've gotten a few thanks from former coaches and players who appreciated us for breaking up their Netflix monotony."
On Mondays, viewers can enjoy in-depth season recaps, highlights, interviews, behind-the-scenes footage and more. On Wednesdays, tune in for full games, such as the NCAA broadcast of the 2013-2014 men's basketball team defeating Tuskegee University in the Elite Eight. On Fridays, the channel airs season highlight bonanzas.
"We know our men's basketball team has quite the storied history, but we want to share the successes of our other sports as well," Lansing said.
As such, fans can tune in to watch the 2006 women's soccer team's national-championship game, relive the 2010 softball team's stellar season and trip to the College World Series and check out women's soccer's playoff win over Dixie State in the Rocky Mountain Athletic Conference playoffs in 2019.
So check out Roadrunners TV and get rowdy!
Topics: Athletics
Edit this page