Early Bird
Data stops for no person (or virus)
Learn about concurrent enrollment at this month's virtual edition of the Student Enrollment Management Data Series.
April 14, 2020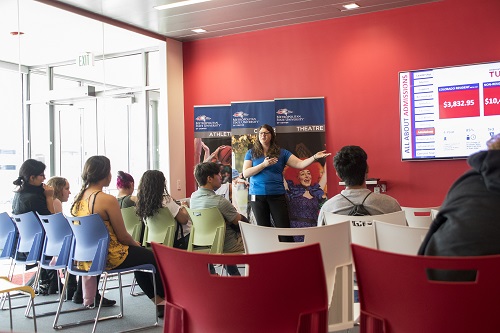 The Student Enrollment Management Data Series has gone virtual. As presentations are designed to bring faculty and staff together through projects and analysis that support student success, please join the SEM team this month to learn more about concurrent enrollment.
SEM Data Series Presentation: Concurrent Enrollment

April 23

2-3 p.m.
Concurrent enrollment, which allows high school students to take postsecondary courses and earn college credit for little or no cost, is exploding across Colorado. This approach increases pathways to higher education for Colorado's high school population, and beginning in the 2020-21 school year, high schools will be required to provide concurrent-enrollment opportunities.
The SEM Data Series presentation will look at who concurrently enrolled students are, where they come from and whether they attend Metropolitan State University of Denver after high school.
Kelsey Smith, business-intelligence analyst, will guide the discussion, focusing on:
Demographic comparisons
Matriculation rates
Academic performance
Graduation rates
Analyzing key data points
The discussion will also cover recent and future concurrent-enrollment trends as well as strategies for supporting the success of concurrently enrolled students.
For questions and additional information, contact Mark Baccei, Ph.D., research analyst, Enrollment Management, at mbaccei@msudenver.edu.
Topics: Enrollment, Events, Save the date, SEM Data Series, Student Enrollment Management
Edit this page