Early Bird
Health Center at Auraria provides COVID-19 testing, mental-health and general medicine services
Staff members have remained energetic, positive and agile to prioritize efficiency and safety for all.
April 14, 2020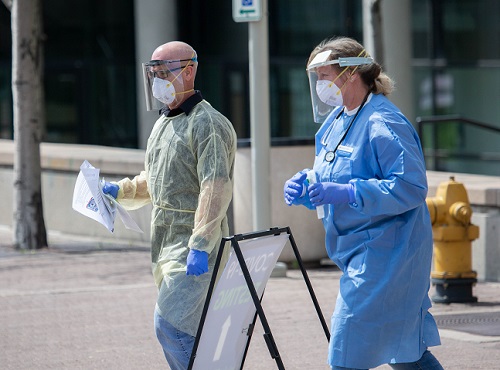 The Health Center at Auraria has been a great source of information and support as our tri-institutional campus community grapples with the effects of COVID-19. To date, the center has completed more than 150 drive-thru COVID-19 tests and continues to respond to calls and questions from concerned Auraria community members.
COVID-19 testing and guidance
Steve Monaco, director, Health Center at Auraria, says staff members have remained energetic, positive and agile to prioritize efficiency and safety. The center moved from walk-up to drive-up testing only to decrease the risk of transmission and help preserve personal protective equipment, and switching from state-laboratory testing to working with a private lab has decreased wait times.
Next, the center hopes to begin using rapid blood tests. Monaco notes that as new, faster blood tests become available, they are in high demand and can be difficult to obtain. Additionally, costs can vary significantly as manufacturers raise prices as demand escalates. However, rapid tests make it easier to determine if an individual has built up COVID-19 antibodies.
"For many people, COVID-19 symptoms are similar to other common illnesses, so they don't realize they had COVID-19 in the past," Monaco explained. "However, those who have recovered and have developed immunities can then donate plasma to help current patients."
The official symptom list for COVID-19 from the Centers for Disease Control and Prevention includes fever, cough and shortness of breath; Monaco notes that symptoms can also include diarrhea, stomach pain, loss of senses of smell and taste, decrease in appetite, fatigue, muscle aches and headache.
"It makes it difficult for clinicians to assess when to test someone, so we are being much more lenient given the ever-changing list of symptoms," he added. "Our goal is to get as many people tested as possible, contingent on test availability, because a lot of people might not be aware they are positive and could be spreading the virus unknowingly."
Roadrunners who believe they might need to be tested should call 303-615-9999 before coming to the center. Regardless of a positive or negative test result, all people who use the testing service receive a phone call to confirm their test outcome.
Mental-health and general medicine services go virtual
Health Center mental-health staff is now offering virtual mental-health services for students, faculty and staff via Microsoft Teams. The center is also quickly adapting the service for HIPAA compliance, consent and health-records management.
To access and schedule confidential mental-health services, call 303-615-9999 Monday through Thursday from 8 a.m. to 5 p.m. and Friday from 8 a.m. to 3 p.m. Mental-health services are free of charge for all Metropolitan State University of Denver students. Faculty and staff mental-health services can be billed to most major insurance companies, and there is a 50% discount for self-pay patients.
The MSU Denver Counseling Center also offers similar virtual mental-health services free of charge for students. To access confidential therapy at the Counseling Center, please call 303-615-9902 and leave a message with your telephone number and your 900 number. A member of the Counseling Center will get back to you shortly to schedule a virtual appointment.
In addition, the Health Center now offers general medicine (primary care) virtual visits for students, faculty and staff. Medical personnel are adjusting to provide clinical services in a virtual environment and will continue to expand these offerings.
"Our goal is to be able to take our services outside of the walls of the Health Center and directly to our students, faculty and staff when possible," Monaco said. "We are committed to expanding this type of service to best meet the needs of our constituents."
Topics: Health, Health Center at Auraria, Mental Health, Safety
Edit this page