Early Bird
Professor's Room: Matthew Makley, Ph.D.
Step inside the office of writer, environmental steward and perennial jock Matt Makley, Ph.D.
March 9, 2020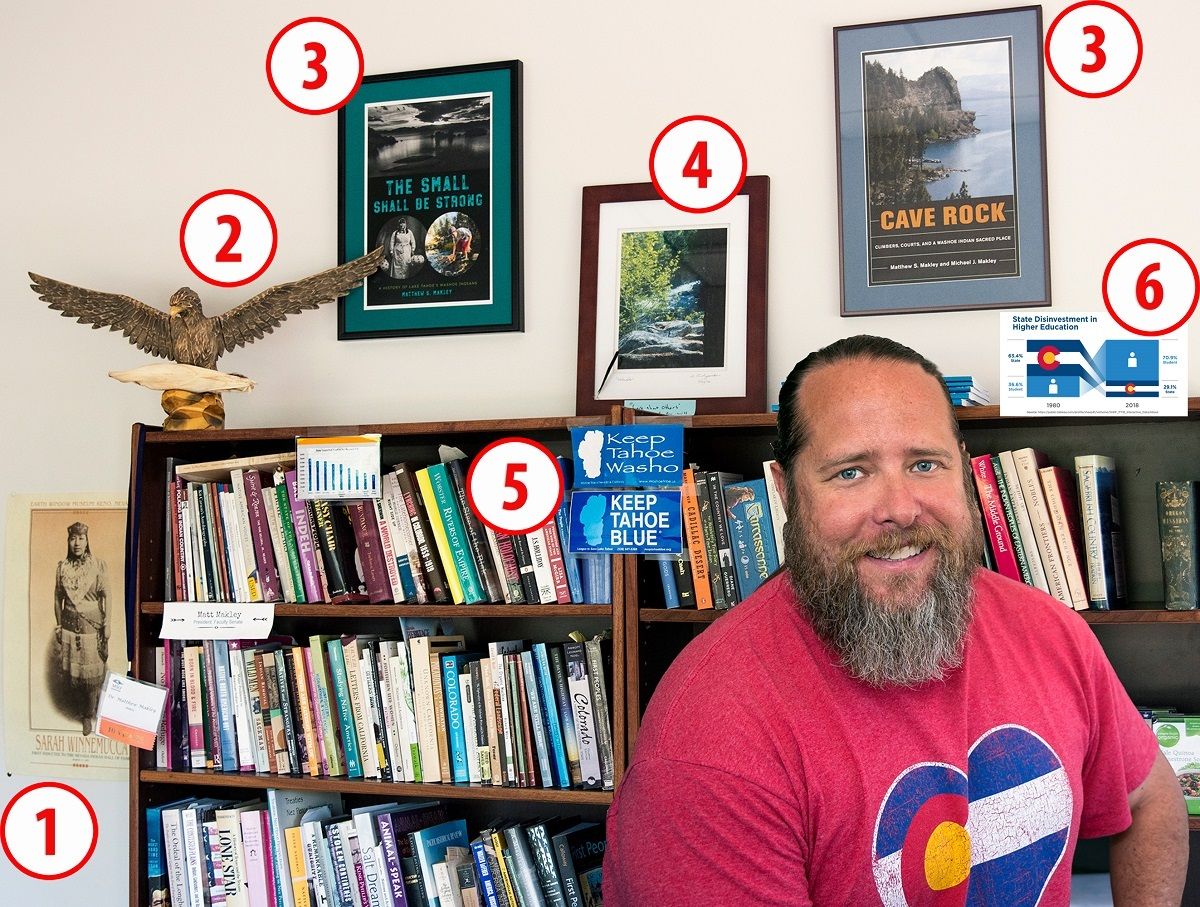 Matt Makley, Ph.D., claims he wasn't a very good student in school. Now a popular professor known for quoting Bruce Lee ("Water can flow, or it can crash. Be water, my friend."), Makley teaches multicultural and Native American history at Metropolitan State University of Denver.
Makley was born and raised in the Lake Tahoe region, and his heart has remained true to the land and people there. He's dedicated to preserving the culture in Tahoe and the indigenous Washoe tribe that has lived in Tahoe for thousands of years – so much so that he has written two books about the Washoe people.
When he's not on campus, Makley spends his free time with his family road-tripping, camping, visiting hot springs, mountain biking, snowboarding and finding outdoor adventures in wild places.
Check out Makley's personal museum of Native American culture in his office in the Central Classroom building.
This photo of Sarah Winnemucca brings me inspiration. She was a Northern Paiute woman who lived in Tahoe and was a fierce advocate for the rights of her people – and the first native woman to publish an autobiography. Being from the same region as Sarah, I feel a connection. I admire her strength and fearlessness.
The Eagle was given to me by Stephen Leonard, Ph.D., longtime chair of the History Department and one of the most outstanding living historians of the American West. The corn that sits with the eagle was given to me by a student from MSU Denver's Journey Through Our Heritage cultural program and represents the connectivity between Native people and Hispanic people on this campus. The corn is a symbol of American Indian history and Native people's use of maize and the deep cultural associations it has for them. These two (artifacts) together help ground me and remind me of my responsibilities to both my students and mentors.
My book "The Small Shall Be Strong" about the Washoe people was published in 2018, and "Cave Rock," which I co-authored with my father, Michael J. Makley, is about a Washoe Indian sacred site on the eastern shore of Lake Tahoe that became the center of a monumental legal struggle. It resulted in the first time in American history when an Indian community's concern over a sacred site resulted in mandated protections on federal lands.
This photograph of the West Fork of the Carson River as it carves its way out of Hope Valley deep in the Sierra Nevada was taken by a dear family friend. I love Hope Valley – it is a place of strength and beauty for me. It's a place my family has visited for almost 100 years. We camp there often.
Keep Tahoe Blue and Keep Tahoe Washo stickers anchor me to home. The Keep Tahoe Blue sticker is pretty popular around the American West. The Keep Tahoe Washo sticker is a play off of that, to remind people that Washoes were at Tahoe first. The Washoe have lived in the Tahoe region for 10,000 years; despite that, they own very little property at their ancestral lake. It is important for us "newcomers" to understand and respect their long tenure and deep associations with Tahoe.
This graphic of Colorado's divestment in higher education is something everyone on campus should have in their office. It demonstrates the steady decline in state funding for higher education. I don't think people fully understand what is happening to higher education here in Colorado. If we continue on this trajectory, the state will stop funding higher education altogether. The costs, then, are left to be covered by student tuition and fees. So that is something all of us who believe in higher education need to be deeply concerned with. I look at this graphic to remind myself that we do more with less and our students deserve more.
If your faculty colleagues surround themselves with outrageous objects, alluring artwork or noteworthy knickknacks, please email earlybirdeditor@msudenver.edu with the subject line "Professor's Room" to see them featured (or to nominate yourself).
Topics: Professor's Room
Edit this page