Early Bird
Student Care Center expands to serve growing need
Several Student Affairs team members redeployed to help center respond to a variety of critical requests and referrals.
March 26, 2020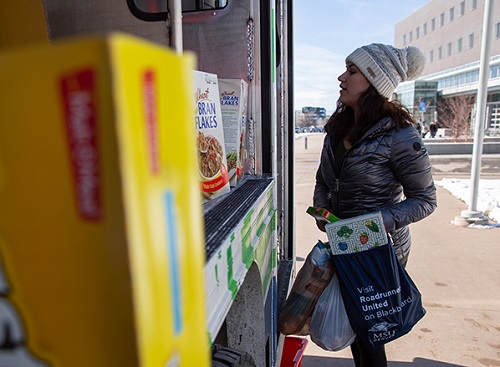 As our global community faces the spread of COVID-19, the Metropolitan State University of Denver Student Care Center is more vital and agile than ever.
Despite the recent uptick in CARE referrals, Student Emergency Retention Fund requests and food-resource inquiries, the center remains committed to its mission of helping Roadrunners navigate would-be roadblocks on their way to degree completion.
"Please keep CARE referrals, emergency-fund applications and other communication on behalf of students coming," said Braelin Pantel, Ph.D., associate vice president, Student Engagement and Wellness, dean of students. "Our students need support more now than ever, and we are at the ready to assist."
Because of the increased volume, the University has redeployed several capable and willing Student Affairs staff to support Erica Quintana-Garcia, interim director of the Student Care Center, and the rest of the case-management team. The following staff will work with Quintana-Garcia and the team for the foreseeable future to provide the support students need at this critical time:
Abbie Beckwith, interim transfer evaluator, Office of the Registrar
Horacio Borja-Duran, coordinator of family, Spanish and special programs, Office of Orientation, Transition and Retention
Ana Carrera, student-success navigator, Classroom to Career Hub
Chaz DeHerrera, student-success navigator, Classroom to Career Hub
Thomas Hernandez, associate director of scholarships, Office of Financial Aid and Scholarships
"I want to publicly and sincerely thank (these Roadrunners) … for their willingness to step into an unfamiliar role," Pantel said. "Their generosity and flexibility during a time of such uncertainty is commendable."
Pantel also applauds supervisors for creating space in each employee's assigned role, allowing them to provide student support where it is most urgently needed.
"This sort of can-do spirit exemplifies our MSU Denver values and is so needed at this time," she said.
Learn how you can continue to support Roadrunners by visiting the Student Care Center website or giving to the Student Emergency Retention Fund.
Topics: Academics, Collaboration, Community, Excellence, Roadrunner Food Pantry, Student Affairs, Student Success
Edit this page