Early Bird
Roadrunners discuss inclusion, investment and innovation with state lawmakers
Upcoming events highlight the value of supporting first-generation students, future aerospace leaders and increased higher-education funding.
March 2, 2020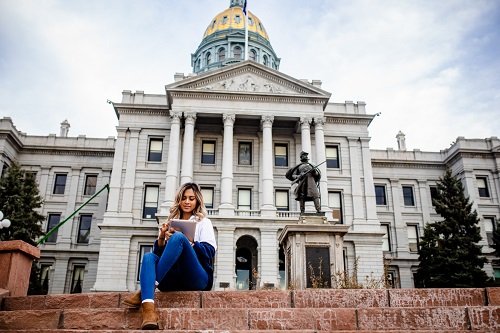 Metropolitan State University of Denver and fellow public universities will meet with state lawmakers this month to make the case for increased investment in higher education – specifically, more support for our thousands of tenacious and dedicated first-generation students and our future aerospace and aviation leaders.
First-Gen Day at the Capitol
Together with Colorado Mesa University Mavericks and Adams State University Grizzlies, MSU Denver will host First-Gen Friday at the Capitol.
Friday
7:30-9 a.m. – Breakfast reception: Mix and mingle with Colorado's elected leaders and policymakers.
9 a.m. – First-generation student tribute: Join us on the House floor or Senate floor or in the gallery to hear a tribute and comments from legislators.
Colorado Capitol Building, first floor, north foyer
First-Gen Day at the Capitol celebrates the General Assembly's support of colleges and universities that are developing new ways to help families and students unfamiliar with the college process. The event applauds trailblazing college students and brings attention to the importance of recruiting, enrolling, mentoring and coaching the first-generation population. Also important, it highlights the need to prioritize specific funding designed to support these students.
Sponsors Rep. Leslie Herod, Rep. Serena Gonzales Gutierrez and Sen. Dominick Moreno will deliver a tribute and will welcome students to the floor and gallery of each chamber. Students, MSU Denver Champions and other first-gen advocates also look forward to meeting with members of the Latinx Caucus and Black Caucus and other key legislators.
Students are invited to share their stories with lawmakers and to advocate for first-generation student support, funding and program resources.
Please encourage students who would be willing to talk about their first-gen experience to RSVP and attend or email mmckin25@msudenver.edu for more information.
MSU Denver is also excited to partner with the Colorado Chapter of Citizens for Space Exploration for Aerospace Day at the Capitol. MSU Denver Champions, students and alumni will visit the Colorado State Capitol to showcase the University's innovation and excellence in education, research and our contributions to the aerospace and aviation industries. Visit the event page to learn more.
March 10
8-9 a.m. Welcome and breakfast reception
Location: North and West Foyer
9-11:30 a.m. Visit to House and Senate
Location: House and Senate chambers
11:30 a.m.-12:45 p.m. Lunch reception
Location: Rotunda
12:45-1 p.m. Group photo
Location: State Capitol, second-floor legislative lobbies
1-3 p.m. Socialize and visit aerospace displays
Location: North and West Foyer
To learn more, visit msudenverchampions.com.
Topics: Aerospace, Alumni, Aviation, Events, First-gen, First-generation, Funding, Legislation, MSU Denver Champions
Edit this page