Early Bird
Support for faculty throughout the remote learning transition
An FAQ developed by Online Learning will help faculty continue to offer instructional activities that are difficult to migrate online, identify resources and training, support students and more.
March 16, 2020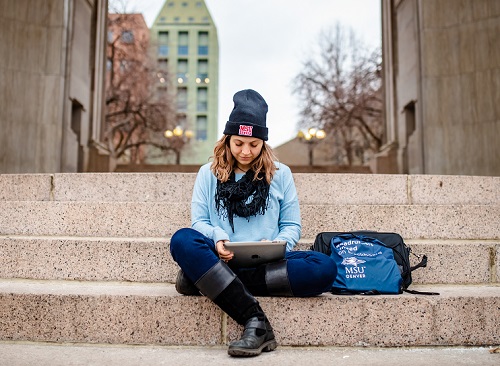 Due to the impact of COVID-19, all faculty should be in the process of migrating in-person instruction online into Blackboard and begin teaching online as soon as possible, as noted by President Davidson Janine Davidson, Ph.D. Courses are required to be taught online starting March 30, but individual instruction can begin as soon as possible. Remember, instruction and student support continues, should campus be required to close.
To help with the collective lift, following FAQ was developed with Matt Griswold, Ed.D., associate vice president of Online Learning, to help continue to offer instructional activities that are difficult to migrate online, identify resources and training, support students and utilize learning support services.
Has MSU Denver moved classes online?
Campus remains open, but all courses are required to be taught online starting March 30, the day after spring break. Instruction should begin online as soon as possible to minimize faculty and student physical presence on campus. Faculty are the experts in their course material, and should determine how best to use technology to enable students to complete their coursework and communicate their plan directly to students enrolled in their courses.
What is the first step I should take to get my course online?
Some faculty have experience teaching online, but many do not and it can be an intimidating learning curve. MSU Denver has built training and support resources with the new-to-online faculty member in mind.
First, visit www.msudenver.edu/ctld/ready/ and complete the self-directed three-step training to bring your course online. If you want deeper or more specific information, review information under the "Ready to Learn More?" heading on the same webpage.
If I need more support, where should I go?
Completing the self-directed training should be first, then attend virtual trainings with information to join available at the bottom of www.msudenver.edu/ctld/ready/.
In-person trainings will be available in Central Classroom 103:
Monday, March 16: 9 a.m., 10 a.m., 11 a.m., 12 p.m., 1 p.m., and 2 p.m.
Tuesday, March 17: 10 a.m., 12 p.m., and 2 p.m.
Additional in-person trainings will be scheduled as necessary.
Additional questions related to instructional training will be answered by calling the Faculty Ready Support Line at 303-615-0800.
My students are requesting specifics around how I plan to offer my courses remotely. Do you have advice?
MSU Denver Ready has a student communication template that includes many teaching formats, tools, and applicable policies that will be useful to prepare students to succeed in your new online course. Use this template to customize a message for your unique learning environment. Keep what is applicable, delete what is not.
I will have students who have never taken an online course or don't feel prepared to succeed. What should I do?
They are far from alone. We know approximately half of existing students have completed an online class at MSU Denver, which means half have not. Students new to online learning should visit www.msudenver.edu/technology/onlineready/ to get acclimated.
Please continue to be flexible and empathetic to your students as many prefer in-person instruction. However, we want to ensure their academic progress and that they reach their personal and professional goals after graduation.
Some students may only have a cell phone. Is that enough?
It's likely. The training you receive through www.msudenver.edu/ctld/ready/ creates a learning experience that can be accomplished through a cell phone. Students, and you, can access Blackboard through either the Student or Faculty/Staff Hub on your browser or by downloading the Blackboard app. And while a cell phone maybe enough, using a laptop or tablet will be far easier.
They may not even have a laptop or tablet…or wifi or wired access for that matter. Any suggestions?
As faculty will likely need to provide this direction to many students, it is recommended you place this prominently in your online course. Some may not have wifi, a large number have a cellular plan. Those with a plan that allows for their cell to serve as a hotspot should research how to use this functionality (also known as wifi tethering), which connects any computer or tablet they have to the internet through their cellular plan. Know this may cost extra so have them review their plan or contact their cell provider.
If they don't have a personal device other than a cell phone, the hotspot option doesn't work, and they tried using their cell phone for class but it isn't working, have them visit www.msudenver.edu/technology/hardwareservices/ or call 303-352-7548 to request use of a loaned device. Note these resources are limited, and will be provided to those in greatest need.
The University is also considering keeping computer lab space open for students who do not have access to a computer or internet access. Updates will be provided as they are known.
What is Microsoft Teams?
Teams is a collaboration tool in the Microsoft 365 Suite that is free to MSU Denver faculty, students, and staff. In it you can chat, share documents and links, place calls, and setup real time video meetings or classes. Steps to create a meeting or class now through a link are provided at www.msudenver.edu/ctld/ready/, Step 3. A more comprehensive guide to Teams for uses like creating a team, chat functionality, and scheduling meeting/classes is available at https://www.msudenver.edu/technology/onlineready/teams/.
Topics: Health, Online Learning, Safety
Edit this page