Early Bird
Day of Giving is one week away
Our sports teams score when you make a gift to the Roadrunners Athletics Giving Challenge.
March 12, 2020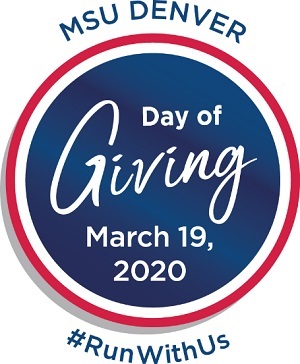 Let the countdown to Metropolitan State University of Denver Day of Giving begin! On March 19, the Roadrunner community will once again come together for 24 hours to support students and programs, and we can't do it without you.
It's Roadrunner vs. Roadrunner as MSU Denver athletic teams compete in the Roadrunners Athletics Giving Challenge on Day of Giving. Make a gift to your favorite team and help achieve our goal of 207 donors – one donor for every Roadrunner student-athlete.
The top three teams with the most donors will receive a Day of Giving bonus: first place, $1,500; second place, $1,000; third place, $500. The team that raises the most money overall will receive an additional $500 bonus.
Giving pages are open, so give your team a kick-start and make your gift today! A gift to your favorite athletic team gets it one step closer to being crowned 2020 Roadrunners Athletics Giving Challenge Champion.
Will your team be the winner? In this challenge, the fans decide. Every gift, in any amount, directly impacts the lives of Roadrunner student-athletes.
Learn about other ways you can help us reach our goals on MSU Denver Day of Giving.
For more information about Day of Giving, contact Bre Milnes, director of annual giving.
Topics: Advancement, Community, Funding, Student Success
Edit this page