Early Bird
Attend the next Student Enrollment Management Data Series presentation
Learn more about concurrent enrollment trends and strategies for supporting student success.
March 10, 2020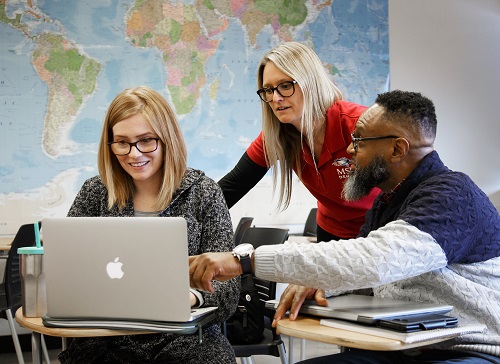 All Metropolitan State University of Denver campus-community members are invited for the next edition of the Strategic Enrollment Management Data Series. The series is rooted in a commitment to bring faculty and staff together through projects and analysis and to support conversations to promote the success of our MSU Denver students. The March edition hopes to spark just those conversations as we dive into Concurrent Enrollment.
Concurrent enrollment is an exploding population across Colorado. The Colorado Department of Education describes the program as an opportunity for high school students to take postsecondary courses and earn college credit for little or no cost. The larger goal centers on increasing pathways to higher education for Colorado's high school population; beginning in the 2020-21 school year, high schools will be required to provide the opportunity for concurrent enrollment.
Nahum Kisner, M.S., director of student support and retention, said, "Data show students who complete concurrent-enrollment classes are more likely to finish high school and persist in college. My hope is that through the new CDE policy and the (SEM) presentation we can address challenges such as the racial disparities in access to dual-enrollment programs that have existed for students of color for years."
Business-intelligence analyst Kelsey Smith will present findings and challenge attendees to think through some key aspects of the data. The presentation looks at who these students are, where they come from and whether they come to MSU Denver after high school. Discussion will include a comparison of demographics, matriculation rates, academic performance and graduation rates.
The key components include:
Covering the broader concurrent-enrollment population and its demographics
Recent enrollment trends for the population and a look toward future trends
Strategies for supporting the success of these students
Join us for the next SEM Data Series Presentation:
Concurrent Enrollment

March 19

2-3 p.m.

Center for Advanced Visualization and Experiential Analysis (4th floor JSSB)
For questions and additional information, contact mbaccei@msudenver.edu.
Topics: Academics, Enrollment, Events, Save the date, Student Enrollment Management, Student Success
Edit this page