Early Bird
MSU Denver wins Campus Compact honor
The University will accept the Richard Guarasci Award for Institutional Transformation for its efforts to build democracy and healthy communities.
February 6, 2020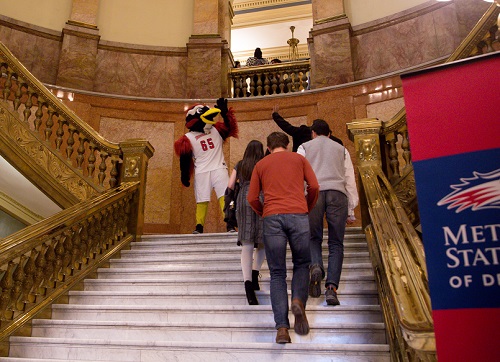 Metropolitan State University of Denver is honored to receive Campus Compact's inaugural Richard Guarasci Award for Institutional Transformation. The award recognizes institutions that have undertaken comprehensive efforts to prepare students for lives of engaged citizenship, to contribute to the health and strength of their communities, to challenge social and economic inequalities that threaten our democratic future, and to undertake this work through mutually respectful partnerships.
Named for former Wagner College President Richard Guarasci, the Award for Institutional Transformation specifically recognizes institutionwide efforts to address issues of public concern by aligning teaching, research, practice and values in service of the common good.
"MSU Denver not only prepares graduates to contribute to our economy but ensures that they become civically engaged community members who help solve societal issues," said President Janine Davidson, Ph.D. "This award is shared by numerous faculty and staff who have created opportunities for students to engage in productive debate and discourse, share ideas and develop a passion for service and upholding democratic ideals."
According to Campus Compact, Metropolitan State University of Denver was recognized for its comprehensive, institutionwide approach to planning for institutional change, including the development of a Civic Action Plan, emerging assessment, connected efforts across departments and clarity around institutional goals. The review committee also noted MSU Denver's status as an integral, visible part of the communities within which it exists, adding that the University "demonstrates a clear and active commitment to strengthening its understanding of urban issues and to partnering with and serving its neighbor organizations in order to better meet the needs of the metropolitan area."
"The individuals and institutions we celebrate through these awards demonstrate the extraordinary impact colleges and universities can make when they commit themselves to strengthening our communities and our democracy," Campus Compact President Andrew Seligsohn said in a statement. "In partnership with residents, local schools and other community-based organizations, they are moving their communities in the direction of greater justice, greater equity and greater participation."
Davidson and several MSU Denver representatives — together with fellow winners Augsburg University, Bard College, Raritan Valley Community College, Seattle Central College and Seattle University — will accept the honor at the Campus Compact Impact Awards Celebration on March 29 in Seattle following the Summit of Presidents and Chancellors.
Topics: Academics, Award, Civic Inspirations, Colorado, Community, Denver, Excellence, MSU Denver Champions, Student Success
Edit this page