Early Bird
Kudos
Scholarships, awards, prestigious recognitions and other accomplishments fill this month's edition.
February 5, 2020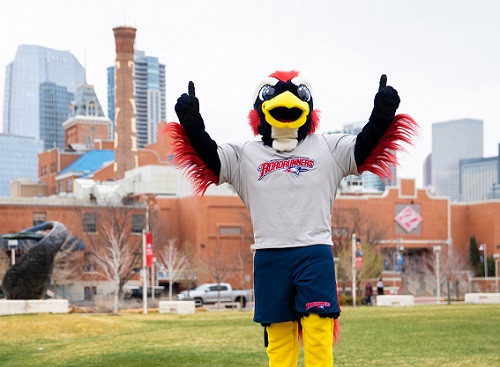 In addition to Faculty Citings, the Early Bird shines a spotlight each month on the accomplishments of Metropolitan State University of Denver faculty and staff. This month, we're also recognizing MSU Denver alumni making our community safer and healthier. If you know colleagues or graduates who deserve a round of applause, email earlybirdeditor@msudenver.edu.
Soaring students
Congratulations to MSU Denver's Society of Physics Students for its collective academic accomplishments. The MSU Denver chapter earned a Society of Physics Students Distinguished Chapter designation for 2019.
Kudos to Belén Torres for winning a scholarship to attend the 2020 Alliance of Hispanic-Serving Institution Educators conference in Florida. The award includes a paid trip to attend the conference as well as a $1,000 prize and is based on academic achievements and a personal essay.
Flying high off the 2019 Collegiate Championships, MSU Denver's Aerobatics and Glider Club took first place nationally in 2019 after narrowly finishing second in 2018.
Thanks to a cool partnership with Journalism and Media Production and television station KCDO-K3, students who were enrolled in the TV Production class last fall had 11 shows uploaded to Comcast 20 and 58 on the Auraria Campus. This helps establish JMP students in the broadcasting field and displays their skills to potential employers. Nice work!
Student and veteran Evan Stratton recently rowed across the Atlantic Ocean with three other volunteers in the Fight Oar Die program, which highlights the mental-health struggles of vets reintegrating with society. Read more about this amazing feat in RED.
Congrats to students who participated in One World One Water's December water competition. Several classes participated, and four presentations illustrated examples of students using innovation to interpret the Colorado State Water Plan. An advisory team of local water experts served as the judges and class advisors throughout the competition. In recognition of the competitors, the winners are:
First place – OWOW's Strategic Communications Plan by JMP 3740: Public Relations Research, Planning and Management
Second Place – Tivoli Brewery Centrifuge by GEG 4720: Sustainability Mitigation Plan
Third Place – Landscape Design by IND 2450: Beginning Industrial Design Studio
Fourth Place – Snow Management by CET 4100: Water Resources Senior Project 1
Thank you to Shannon Peistrup for representing MSU Denver in the community as she volunteers at Chatfield Botanic Garden and Passionate Life Church.
Fabulous faculty and staff
The American Library Association and Choice magazine selected "The Small Shall Be Strong," by Matt Makley, Ph.D., professor, History, as one of its "Outstanding Academic Titles" for 2019. The letter of notification specified, "These outstanding works have been selected for their excellence in scholarship and presentation, and the significance of their contribution to the field. Outstanding Academic Titles are truly the 'best of the best.'"
Braelin Pantel, associate vice president, Student Engagement and Wellness, and dean of students, was recognized for superior academic achievement by the University of Northern Colorado this winter. She received the "Outstanding Dissertation" award for her Higher Education and Student Affairs Leadership dissertation titled "Students of Size: An Exploratory Case Study on a Hidden Climate."
Two MSU Denver professors made it to the Allmusic 2019 Year in Review Favorite Jazz Albums list. Carmen Sandim's album "Play Doh" narrates her transformative recent life experiences in a "harmonically dense and artful production." Trumpeter Shane Endsley (together with Kneebody bandmates) was also included on the list for his album "Chapters."
Cornetist and composer Ron Miles, MSU Denver Musician in Residence, was featured in an article in the Washington Post in January for his Kennedy Center performance with jazz musician Jason Moran.
MSU Denver was one of 26 diverse Colorado arts organizations to be selected as first-round award recipients of the National Endowment for the Arts' 2020 grant cycle. The Colorado Office of Economic Development and International Trade announced that MSU Denver received a $15,000 grant to support Art Works, a professional-development lab and teaching-apprenticeship program.
The MSU Denver Environmental Science program recently made GradReports' 25 Best Colleges for Environmental Science list. The list ranks insitutions that offer a bachelor's degree in environmental sciences according to graduates' median salary one year after graduation.
Stupendous staff
Cecily Cullen, director, Center for Visual Art, enlisted the help of numerous MSU Denver faculty and staff for the 10th Biennial MSU Denver Art Department Exhibition. The exhibition featured 31 MSU Denver artists using a wide variety of media and was featured in Westword's "Twelve Best Art Shows in Denver in 2019" Nice job, everyone!
Elle Heeg Miller, family nurse practitioner, Health Center at Auraria, has been selected to represent MSU Denver and the Auraria Campus on the Colorado Department of Higher Education's Sexual Misconduct Advisory Committee. The committee will advise higher-education leaders and policymakers on forthcoming federal rule changes to Title IX.
School of Hospitality Beverage Analysis Lab Manager Katie Strain now holds a Chemist Certificate to analyze alcoholic beverages for the purpose of export. Only seven labs across the country are qualified for all three categories of beer, wine and spirits, and now MSU Denver's Beverage Analytics Lab is one of them.
Applause for alumni
A group MSU Denver veterans and alumni founded Veterans Without Borders to find, plan and execute humanitarian efforts around the world using systems-engineering methodologies. These innovative vets used crowdsourcing for their first project: installing solar panels on a school and medical center in the Dominican Republic. The project was organized by hero alumni Aaron Gross and Andres Ramos.
Contemporary artist and alum Mario Zoots' work "Gentle Distortion" was featured in December in Westword's "Twelve Best Art Shows in Denver" profile. Check out his work on Westword online.
If you know Roadrunners doing fantastic work to advance University goals and student success, or those doing great work in the broader community, remember to share it with the Early Bird!
Topics: Award, Community, Kudos
Edit this page