Early Bird
Submit your Professional Development Conference proposal
Apply by Feb. 28 to share your ideas and expertise with colleagues.
February 4, 2020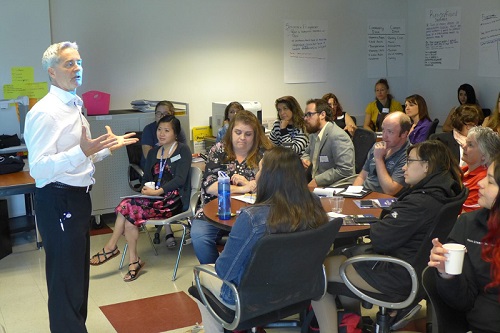 The 2020 Metropolitan State University of Denver Professional Development Conference call for proposals is open. This an amazing opportunity to share your knowledge and innovative ideas with colleagues across campus.
The theme is "Communities of Care: Checking In When You Want to Check Out." The conference will focus on topics related to caring for our community and will explore the healthy ways we approach our students, our colleagues, ourselves and the beautiful city in which we live and work.
Employees who are interested in submitting proposals are encouraged to consider the ways our campus community can support and nurture the following:
Students: How do we ensure that they retain, learn and succeed?
Co-workers: How do we create healthy working environments, offer safe spaces to try and fail, etc.?
Ourselves: How do we care for ourselves and ensure that we can contribute and be an active participant? How do we encourage positive support in our environment?
The Denver community: How do we work with high schools, businesses, nonprofits, etc., to the benefit of our students and community?
Presenters will share their information through one of four formats:
Workshops: A traditional 60-minute presentation.
MSU Denver Talks: Similar to a TED Talk, presenters will speak on a topic for 15 minutes followed by 5 minutes for Q&A.
Roundtables: Presenters facilitate conversation among participants on a specific topic for 20 minutes. Participants then move to the next roundtable for a new discussion.
Poster Presentations: A physical poster that conveys information in a concise way and generates discussion. Posters will be on display for the whole day, with the presenters making themselves available for discussion with attendees during the lunch hour.
The morning session, 8-11:30 a.m., will repeat in the afternoon session, 12:30-4 p.m. Aside from the poster presentations, all participants will present during the morning and afternoon sessions.
Find more information and submit your proposal on the Professional Development Conference website or email PDC@msudenver.edu.
Topics: Community, Events, Excellence, Human Resources, Inclusion, Inclusive leadership, Innovation, Learning and development, Professional development, Professional Development Conference
Edit this page