Early Bird
Goals Conference turns big ideas into action
Daylong work session brings together faculty, staff, trustees and students to draft goals for MSU Denver's next strategic plan.
February 20, 2020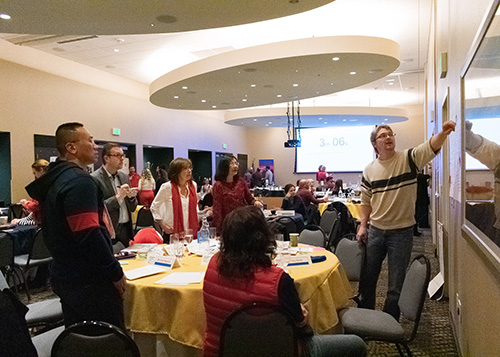 Metropolitan State University of Denver's strategic-planning process entered its homestretch last week, when 60 faculty, staff, senior leaders, trustees and students gathered for the much-anticipated Strategic Plan Goals Conference. The lively daylong session saw Roadrunners from every corner of the University community work together to turn big ideas into tangible goals.
"This strategic plan will be a living document used to drive the future of MSU Denver," said President Janine Davidson, Ph.D., in her opening remarks. "The history of this University starts right now, with all of you charting our future."
Led by co-chairs Cathy Lucas, vice president of Strategy, and Matt Makley, Ph.D., professor of history, the conference was organized around five pillars defined by the Strategic Planning Team: 1) Student Access and Achievement; 2) Civic and Economic Catalyst; 3) Diversity, Equity and Inclusion; 4) Agile and Sustainable; and 5) Student-centered Academic Excellence. The pillars were distilled from the feedback and ideas of more than 1,500 members of the University and Colorado communities.
Each conference participant was assigned to a team focused on the pillar most directly connected to their expertise or work. The teams were tasked with creating three to six goals for their pillar, which were then presented to the full group. After the presentations, energized participants voted for the top goals for each pillar.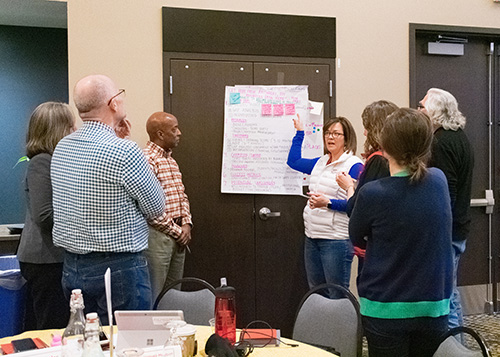 Russell Noles, vice chair of the MSU Denver Board of Trustees, remarked on the impressive effort put into the process. "This wasn't a goals conference," he said. "It was a workshop. You all put us to work."
With top goals selected, teams dug in on creating action plans for achieving each goal, considering factors such as resources needed, challenges to overcome and who should lead the effort. Those action plans were ultimately refined with feedback from all participants.
At the same time, a smaller representative group of Roadrunners was working on three draft vision statements. Lucas described the statements as "what we want to look like in 2030." All participants were asked to give high-level feedback on the drafts, selecting which resonated most with them.
Lucas said the next step in the strategic-planning process would be to combine the goals, action plans and vision statements into a single draft strategic-plan document to share with internal and external stakeholders. The final draft will then be presented to the Board of Trustees in June in advance of the July 1 launch.
"I want to thank everyone for your time and energy today," Lucas said at the conclusion of the event. "It is amazing to see you roll up your sleeves and get to work for this University. We're not done yet. But we are one step closer."
Topics: Board of Trustees, CADRE, Community, Excellence, Inclusion, Inclusive leadership, President Davidson, Strategic Planning
Edit this page