Early Bird
Save the date: Immigrant Services 30th Anniversary Celebration
You're invited to celebrate the longstanding impact of the MSU Denver program Tuesday, March 10.
February 20, 2020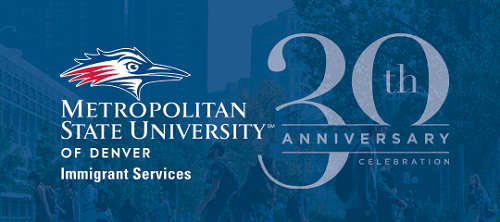 For three decades, Immigrant Services has provided the University's undocumented, immigrant, refugee and asylee students with academic guidance, social support and access to crucial resources. Mark your calendar for March 10 to partake in an evening of live music, speakers, food, refreshments and more.
To commemorate the program's tremendous impact, donations are being collected in honor of Patti J. Lohman, founder of the Immigrant Services Program, to support the MSU Denver Dreamer Student Programming fund. You're welcome to contribute a gift on the donation page. Be sure to select "Dreamer student programming" in the designation drop-down menu and include "Gift is in honor of Patti J. Lohman" in the comments.
Immigrant Services 30th Anniversary Celebration

March 10

5:30-7 p.m.

Tivoli Turnhalle
Topics: Diversity, Events, Excellence, Immigrant Services, Inclusion, President Davidson, Save the date, Student Success
Edit this page