Early Bird
Housing in Denver: then, now and ahead
Panel discussions and movie screening address housing challenges and one proposed solution that's grabbing headlines in this D-phi event.
February 19, 2020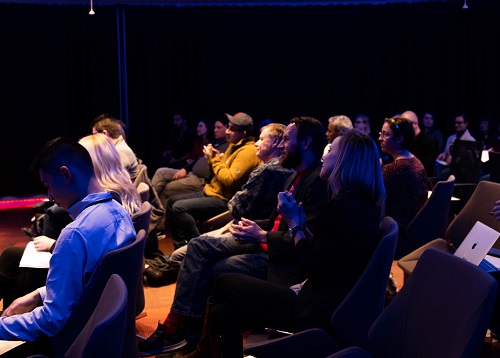 Whether it's rising rents, property taxes or related issues such as housing insecurity from displacement, affording a place to live touches just about everyone in the metro area.
That includes Metropolitan State University of Denver students, 62% of whom reported facing housing disruption at some point during 2018. Moreover, it's part of a national trend: According to the recently released #RealCollege 2020 report from the Hope Center for College, Community and Justice, 46% of respondents noted housing insecurity in the past year.
Understanding how we got here is key to developing strategies to move forward – which is foundational to "Arc of Justice," an upcoming panel conversation and movie screening on Feb. 26 in the Center for Advanced Visualization and Experiential Analysis.
"MSU Denver was chosen as the site to start the conversation about affordable housing among the next generation of Denverites who will pick up this fight," said Olivia Czarnecki, senior Honors Program/individualized-degree-program student involved in coordinating the event. "There is room in this discussion for voices from all fields, as Denver's housing crisis is a problem that needs to be addressed from every angle."
Hosted by Elevation Community Land and co-sponsored by MSU Denver's Project for Humanistic Inquiry, it kicks off with a discussion of Denver's housing history, including a critical look at discriminatory and displacing practices. Panelists include Tom Romero, associate professor at the University of Denver Sturm College of Law; Elena Wilken, director of Housing Colorado; and U.S. Senate candidate Michelle Ferrigno Warren, who recently visited MSU Denver as part of the University's fireside-chat series.
This is followed by a screening of "Arc of Justice: The Rise, Fall and Rebirth of a Beloved Community," an acclaimed documentary detailing the story of New Communities Inc., founded by civil-rights leaders in southwestern Georgia.
The second panel focuses on community land trusts, a nonprofit development model that came to national attention as a group of mothers, in conjunction with a Bay Area CLT, recently won a fair-housing case in Oakland. Representatives from Elevation; the Globeville, Elyria-Swansea Coalition; and the Urban Land Conservancy will discuss the current CLT landscape in Denver.
Feb. 26

11 a.m.-4 p.m.

CAVEA, Jordan Student Success Building

Room 420

890 Auraria Pkwy., Denver, CO 80204
The event is free, but RSVP is requested.
For more information, contact Olivia Czarnecki.
Topics: Access, Colorado, Community, Denver, Events
Edit this page