Early Bird
The C2 Hub welcomes a new director of industry partnerships
Maluwa Behringer imagines a future in which all graduates successfully apply their higher education to industry and society.
February 19, 2020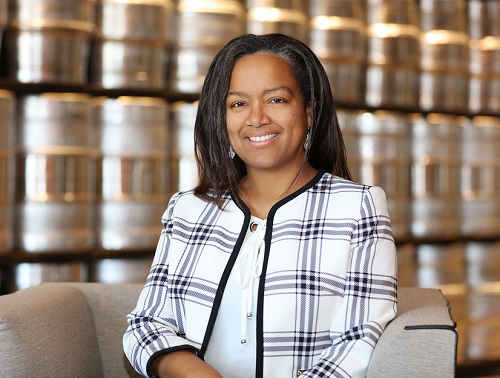 When Maluwa Behringer was a junior at the University of Florida, she landed an internship at Kraft Foods. The experience "truly charted the path" for her future, she said. It led to a 20-plus-year career with the company and 4 years at Molson Coors Beverage Co. as vice president of research, development and innovation.
Now, as Metropolitan State University of Denver's new director of industry partnerships, Behringer is tapping into that experience to create career opportunities for students. "My goal is to acclimate to academia and bring a fresh perspective to help the University and its students succeed," she said.
When she first sat down to think about the Classroom to Career Hub position, one of the first words that surfaced was "potential." The role has life-changing potential. "Imagine a future where every single graduate is set on a trajectory to successfully apply their higher education to industry and society," she said.
To begin, her to-do list includes building a strong team, meeting internal and external partners to develop a strategy and strengthening engagement with students and industry partners.
The Early Bird caught up with Behringer to learn more.
What opportunities do you see for building more connections between MSU Denver and industry leaders?
Colorado has a talent gap, and companies spend millions recruiting, onboarding and retaining talent. It's much more economical to fill positions locally, and MSU Denver is in a great position to fill the talent gap. More than 96% of our students are from Colorado and (about 80%) stay in Colorado. There's a strong business case to source talent locally, and we have graduates ready to apply their hands-on education. Our focus is to make the right connections and set up a high-impact-engagement approach with industry partners and our students.
How do you plan to engage employers?
I plan to work with the team to tap into MSU Denver's existing networks and maximize those networks to the fullest. Our alumni, civic, philanthropy, business and personal networks are all gateways to industry partnerships. The key is to be strategic, intentional and inspiring about how we engage with our networks.
How will you use data and trends to shape your work?
The 2019 Colorado Talent Pipeline Report is a great resource to understand the supply and demand of talent. We will include these insights as we shape our plans. It will be important to understand our benchmarks to establish and monitor key measures of success. It would also be great to get data and feedback from our industry partners.
Learn more about the Classroom to Career Hub.
Topics: Arrivals and departures, C2 Hub, Classroom to Career Hub, Colorado, Community, Denver, Excellence, Hiring, Student Affairs, Student Success
Edit this page