Early Bird
Reminder: U.S. Senate candidate fireside chats today and next week
MSU Denver is helping students, faculty and staff to get informed for November 2020 and in preparation for the March caucuses.
February 17, 2020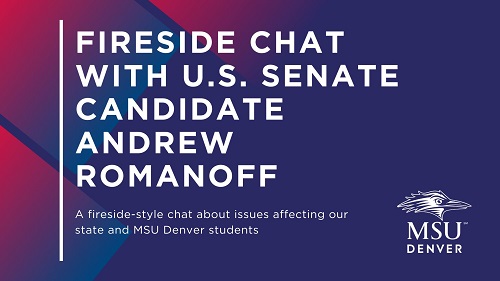 As part of Metropolitan State University of Denver's ongoing series of fireside-style chats with Colorado's 2020 U.S. Senate candidates, please join President Janine Davidson, Ph.D., for an event on campus today with candidate Andrew Romanoff.
We have extended an invite to all candidates to participate in a student-moderated conversation about the future of Colorado.
Faculty members are encouraged to bring their classes for what are sure to be thought-provoking and informative dialogues about our state.

These events will take place in the Center for Advanced Visualization and Experiential Analysis on the fourth floor of the Jordan Student Success Building. Space is limited, so please RSVP to reserve a seat. We will also be livestreaming each event.

A member of the Student Government Assembly will facilitate the Q&A. Along with your RSVP, you're welcome to submit a question for consideration.
Last week's chat featured candidate Trish Zornio, a scientist and lecturer at the University of Colorado, Denver.
Hosted by Faculty Senate President Katia Campbell, Ph.D., and student Danielle Holmes, the event covered topics including food insecurity, gun control and equity, as well as education issues such as affordability and federal funding for colleges and universities.
Zornio began by noting that no scientists currently sit on the U.S. Senate Science Committee and expressed her desire to infuse science and technology into 21st-century policymaking. If elected, she hopes to tackle issues such as climate change, cybersecurity, grid security, health care privacy, the impact of artificial intelligence on the workforce and more.
"I got into this race because I wanted to make sure that not only do we fight for the values that we share – making sure we have access to good jobs, housing and health care – but how those values are going to be changed and impacted by the science and technological developments of the 21st century," Zornio said. "If we don't have any scientists involved in actively addressing things like climate change, we're not going to have full and robust policy."
Watch Zornio's fireside chat and check out the upcoming dates in the series:
Andrew Romanoff | Today, 1-2 p.m. | RSVP here
Lorena Garcia | Feb. 24, 2-3 p.m. | RSVP here
Diana Bray | Feb. 25, 1:30-2:30 p.m. | RSVP here
Topics: Events, Legislation, MSU Denver Champions, Policy, President Davidson, Presidential Speaker Series, Save the date
Edit this page