Early Bird
When Roadrunners return to the nest
Alumni Relations introduces a new process for hosting campus visits by former students.
February 11, 2020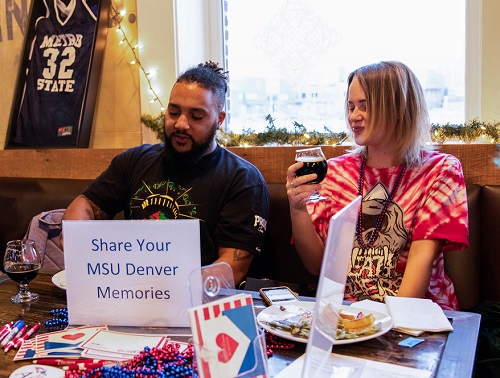 At Metropolitan State University of Denver, our greatest asset is our Roadrunner family. With more than 95,000 alumni worldwide, 65,000 of whom live in metro Denver, alumni are an often-overlooked and -underutilized resource for attracting, educating and retaining students.
Alumni can support the student experience by:
Sharing their expertise in their professional field.
Illustrating graduate success stories.
Providing networking experiences that can lead to future internships, mentorship and career opportunities.
So how can the campus community engage alumni in a way that is beneficial to everyone, and who can help plan and organize an alumni campus visit?
The MSU Denver Office of Alumni Relations is here to offer support and a process for making your alumni visit go smoothly. Working with Alumni Relations can ensure that we keep an accurate record of alumni involvement; recognize and thank alumni volunteers for sharing their time and knowledge; provide parking passes, alumni gifts and continued stewardship; and more.
Learn how to make alumni campus involvement successful by contacting Alumni Relations today. When Roadrunners connect, we all have the opportunity to experience the best the University has to offer. Together, we can Run this City!
For more information, contact Brandi Rideout, director of alumni relations.
Topics: Advancement, Alumni, Community
Edit this page