Early Bird
The enrollment impacts of COVID-19
Tune in to the next edition of the Enrollment Command Center Data Series on Tuesday.
December 2, 2020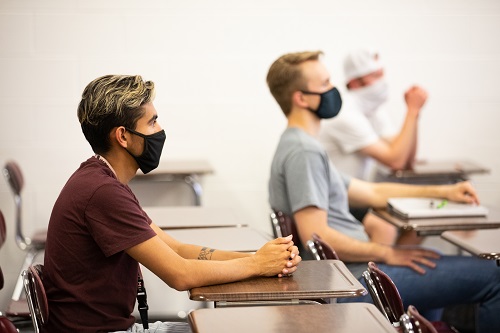 Metropolitan State University of Denver strives to be a data-informed institution, but 2020 has thrown a curveball to that approach. Generally reliable student trends and behaviors have been drastically altered. National literature has noted two distinct areas of change: submission of financial-aid applications and new-student enrollment. MSU Denver has seen changes in these areas, prompting the question, "Have COVID-19 and other significant events of 2020 impacted Roadrunners in the same ways they have other college students?"
The Office of Enrollment Management, in partnership with the offices of Financial Aid and Admissions, sought to better understand how 2020 has differed from 2019 in terms of student behaviors and impacts. A year-to-year comparison and analysis of 2019 and 2020 have helped illuminate and quantify the bumpy roads our Roadrunners have been running this year.
"Through ongoing work monitoring national trends regarding enrollment and FAFSA completion, a National College Access Network analysis highlighted double-digit declines in FAFSA renewals from low-income students," said Michael Nguyen, director of enrollment-management systems and operations. "This sparked the initial analysis to see how our institutional data compared to national trends. We learned some key insights into target populations, how they responded over the course of the year, and started to formulate ideas for outreach efforts. It also was a telling sign as to the declines we eventually saw within the fall 2020 enrollment."
Dive into this data at the next Enrollment Command Center Data Series event. The event will help participants:
Understand prior levels of student FAFSA and Admissions applications
Learn about the intersection of race/ethnicity, socioeconomic status and other demographic aspects and get insights to students' decision-making processes
Identify different periods across the past admissions and aid year cycle
Start planning for 2021.
Join the event via Teams to learn more about the actual data of 2020 and COVID-19.
Enrollment Command Center Data Series
The year of COVID

Tuesday, 3-4 p.m.
The ECC Data Series will resume in February. Please email Mark Baccei, Ph.D., research analyst, Enrollment Management, for more information.
Topics: Enrollment, Events, Registration, Save the date, Student Success
Edit this page