Early Bird
School of Education exceeds retention goal
Focusing on three priority areas helped the school keep more students than ever on track to graduation.
December 10, 2020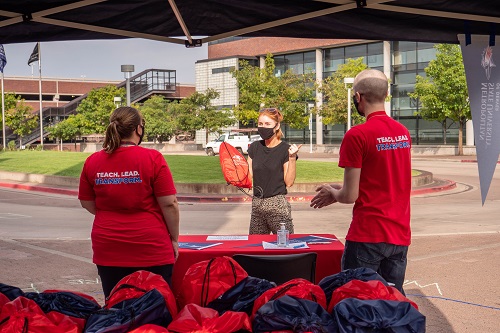 In a year when success stories have been a bit harder to come by, the Metropolitan State University of Denver School of Education has reason to celebrate. Concerted efforts by school faculty and staff to achieve 81% student retention by 2021 have resulted in a retention rate of 82%, exceeding expectation and timeline and putting the school on track to reach even greater goals.
The retention milestone, a goal of the school's current Strategic Plan, is the result of a three-pronged approach that focused on building relationships with students, tracking and measuring data, and improving processes. This milestone also means even more burgeoning educators will remain on track to enter the workforce with less debt and a clear path to success.
Tracking and measuring data
When the School of Education developed its current Strategic Plan, student retention (fall-to-fall, undergraduate, degree-seeking) stood at 76%. Meeting and exceeding the 81% goal was an all-hands-on-deck effort that also engaged advisors and partners in Admissions and the Enterprise Data Warehouse.
"One thing that I cannot stress enough about increasing retention is the use of data and goal-setting throughout all efforts," said Liz Hinde, dean of the School of Education. "Faculty in the school were moved to act because of data and information showing what is and isn't working."
Gathering data, however, required streamlining and improving coding processes in Banner. The school relied heavily on data specialists Laura Gorny and Bev Andes (now with the Office of the Provost), who at various times combed through data to identify and track undergraduate students who are education majors. Working with the Enterprise Data Warehouse team, the School of Education developed a comprehensive dashboard to cleanly and clearly track progress and trends.
"The data needs to inform so many of the decisions we make," Hinde said. "Now, because of the clear definitions and better internal University data systems working with our school specialists, we have confidence in the data we are gathering."
Building relationships with students
School of Education faculty, staff and professional advisors focused their efforts on student-centered wraparound or intrusive advising, while the school as a whole worked to shift the mindset from "Our students can't do (fill in the blank). Their lives are too complex" to focusing on Roadrunners' strengths.
"What became clear is that when students are given a path to graduation, they will take it," Hinde said. "We now understand just how resilient and creative and persistent our students are. When they are given this path, they'll find a way."
Improving processes
Focusing on data and connecting with students uncovered opportunities for process improvement. School of Education faculty and staff identified pain points related to application deadlines, financial concerns and hiccups with registration and scheduling advising meetings. The team took a hard look at these various patterns and processes and streamlined tools and supports. This included directly surveying students and faculty members to identify issues.
After Hinde debuted the retention data with the School of Education faculty and staff in October, more ideas started coming. Many faculty members and teams have been energized to develop grassroots retention programs and engage in their own mini-retention campaigns for students.
What's next
The School of Education will close out the year under its current Strategic Plan and will develop a new plan in 2021. The new plan will align with the larger University Strategic Plan 2030, but each School of Education program will create its own goals and metrics. Hinde said the goals will directly relate to retention through operationalizing diversity, equity and inclusion values.
"We are intent on keeping (retention) high, and we hope to raise our rate even higher to around 89-90%" Hinde said. "Like everything else, though, the effects of COVID-19 will affect our goal-setting."
The inclusive strategic-planning process will incorporate the perspectives and insights of internal and external stakeholders.
Topics: Retention, School of Education
Edit this page