Early Bird
Tune in to MSU Denver Commencement on Friday
Join the University community in honoring more than 4,000 outstanding graduates.
December 10, 2020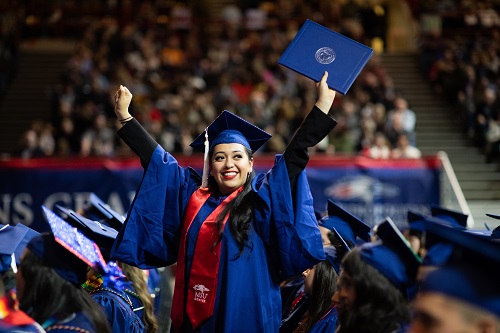 Metropolitan State University of Denver's virtual spring and fall 2020 Commencement ceremonies are happening Friday, and the entire University community is invited to attend.
The ceremonies will be available on the Commencement home page.
Friday
Spring 2020 ceremony

10:30 a.m. – Preshow
11 a.m. – Virtual ceremony

Fall 2020 ceremony (including summer 2020 graduates)

1:30 p.m. – Preshow
2 p.m. – Virtual ceremony
Add spring 2020 ceremony to calendar
Add fall 2020 ceremony to calendar
Roadrunners are also encouraged to post congratulatory Commencement messages on Facebook, Twitter, Instagram or LinkedIn. Please include the hashtag #MSUDenverGrad so the events team can find your messages and repost them on the University's channels.
Congratulations, graduating Roadrunners! We can't wait to see you soar!
Topics: Commencement, Events, Save the date
Edit this page