Early Bird
Postelection events and resources
Watch Friday's tri-institutional panel discussion and other upcoming events to learn about and process election results.
November 5, 2020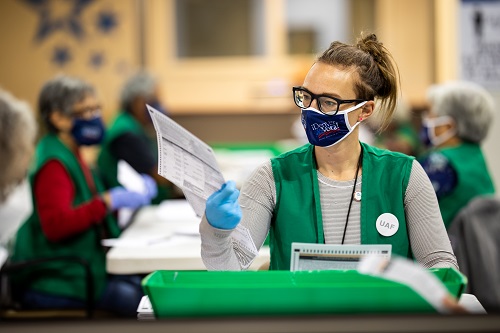 As multiple states continue to count ballots, and several closely watched Senate races proceed to run-offs, Americans remain eager for election results. The 2020 race has also brought up a number of questions about the political process and what comes next.
Roadrunners seeking more information and context are invited to take advantage of several resources.
Tri-institutional panel event
Tune in on Friday to Election 2020 Part II: WTF (Wednesday, Thursday, Friday…will it ever end?!?!). The tri-institutional panel event will cover 2020 election results, assess where the country stands, and dig into the historical precedent for some of the election events that happened in 2020.
Election 2020 Part II: WTF (Wednesday, Thursday, Friday…will it ever end?!?!)
Friday

2-3 p.m.

Register in advance to submit questions to the panelists. There will also be a live Q&A session.
Panelists include:
Shelby Balik, Ph.D., MSU Denver
Jeremey Castle, Ph.D., MSU Denver
William Ashcraft, Ph.D., CCD
Michael Berry, Ph.D., CU Denver
Brandon Mills, Ph.D., CU Denver
The event will be moderated by Hollie Hendrikson, lecturer, Political Science, and chair of the American Democracy Project Committee.
More resources to process the election
Today through Nov. 16, the campus community will also host a series of events to help students, faculty and staff process election results, learn about nonviolent communication and activism, and more. Please visit the American Democracy Project website to see details.
Thank you to MSU Denver's American Democracy Project for providing details on potential election outcomes and paths forward. Staff and faculty are welcome and encouraged to share this information with students who have concerns about the election process. The ADP also recommends checking out "How Faculty can prepare to handle the post-election classroom" provided by the Scholars Strategy Network.
Topics: Events, Save the date
Edit this page