Early Bird
Helping students prepare to vote in the November election
Thirsty for a Strong Instructional Practice?
October 8, 2020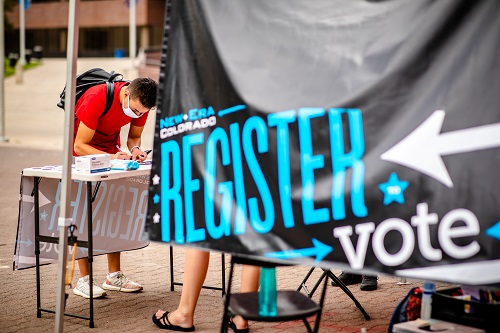 Voting is the cornerstone of the democratic process. Regardless of whether a person considers voting a right, a privilege or a duty, the act of casting a ballot is constitutionally protected and allows each of us to help create the laws of the land and choose the representatives who carry them out.
With our country at the crossroads of a global pandemic and a historic reckoning with racial politics, voting in the upcoming election is perhaps more important than ever. However, it may also seem more challenging than ever. As an institution, how can Metropolitan State University of Denver engage in the democratic process and guide our students toward the information and access they need to participate fully?
Take a SIP of this: helping students prepare to vote in the November election
Many students vote for the first time in college and set the stage for a lifelong commitment to involvement in local, state and national politics. The role that a campus plays in this cycle is foundational. During any given election year, college campuses are usually replete with off-campus political nonprofits and student organizations getting out the vote by doing in-person, on-the-spot registration and informing students of the issues at hand.
As reported in MSU Denver's RED, and again Sept. 28 by the Denver Post (https://www.denverpost.com/2020/09/28/colorado-colleges-covid-politics-voter-registration/ ), our institution was nationally recognized by the All In Campus Democracy challenge for having the highest undergraduate-student voting rate of 65.3% out of almost 600 college and university campuses in 2016. We are focused on maintaining and even improving that achievement this year.
But this year, of course, there is barely anyone on campus, so our usual techniques to inspire voter participation among our students will be of limited use. Faculty have the most front-line contact with students this year, and we have a responsibility to encourage our students to get registered and get voting. Here are a few ways you can engage your students in the process:
First and foremost, students, faculty and staff who are eligible to vote must make sure they are registered to do so. Students can confirm their registration and register, if necessary, at org (https://www.vote.org). New Era Colorado (https://neweracolorado.org ), a youth-focused nonprofit aimed at increasing voter registration and voting rates among the student population, is also a great resource for voter registration and education. If you would like to invite New Era Colorado to your class to help your students register to vote, please contact Glenn Jacoby, youth vote coordinator (she/her/hers), at the New Era Colorado Foundation and New Era Colorado Action Fund at 720-565-9317 (office) or 678-350-5542 (mobile).
Voting in Colorado will be conducted via mail this year, and students need to make sure that their address is correctly recorded so they will receive their ballots. Our students' living situations may have changed during the pandemic, and they may need to update their address. They can also check their currently recorded address and change it if necessary at org (https://www.vote.org).
Remind students that when they vote, they need to follow the instructions printed on the ballot carefully. Ballots need to be signed, enclosed in a secrecy sleeve, etc. Ballots that do not follow instructions may not be counted, so this step is crucial.
You may feel uncomfortable discussing the issues up for debate during this election season with your students. Your classroom space may not be the appropriate space for these sometimes-difficult conversations, and that is OK. Point your students to this article from Denver's 9News (https://www.9news.com/article/news/politics/voter-guide/colorado-november-election-voter-questions/73-d15a2201-fa37-4d18-9cda-65414d456fbe ) that explains all 11 of our local ballot issues in a nonpartisan fashion and also provides a handy list of Colorado voting FAQs.
Talk to your students about how you plan to vote. This does not mean to tell them what you are voting for but a casual mention here and there of how you received your ballot or how you are leafing through the blue book each night to learn about the issues. A celebratory post in Canvas announcements when you mail in your ballot sets a great example that your students will want to follow.
Don't leave your undocumented or DACA students out of the conversation. Even if a student is not eligible to vote due to citizenship status (or age, for that matter), they are able to help spread the word about the importance of voting and the issues at stake. These students have much at stake during the election, and even if they cannot vote, they can make their voices heard and be worthy social and political influencers during this election season. Check out this great NPR report (https://www.npr.org/2020/09/15/911460160/she-cant-vote-herself-but-this-daca-recipient-is-working-to-register-others) on a DACA student who is serving as an ally to registered voters.
Getting involved, albeit virtually, is a great way to create a community feeling and to reinforce the importance and the impact of voting. Learn more by visiting the MSU Denver Champions webpage.
Still thirsty? Take a SIP of this: helping students prepare to vote in the November election.
"Usually political hotbeds, Colorado's college campuses quiet as voter registration, campaigning ramps up." The Denver Post, September 28 2020. (https://www.denverpost.com/2020/09/28/colorado-colleges-covid-politics-voter-registration/)
The American Democracy Project at MSU Denver:
https://www.msudenver.edu/career/forstudents/civicengagementprogram/americandemocracyproject/
Topics: Best practices, SIP, Strong Instructional Practice
Edit this page