Early Bird
Attend an upcoming workshop series on colorism, discrimination and intersectionality
The student-created series begins Oct. 14. Register today.
October 7, 2020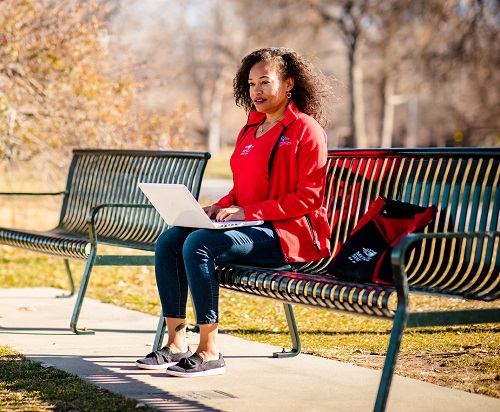 Many Roadrunners are experiencing and managing emotions on a new level this year. Pivoting from daily routines, quickly adapting to the "new normal" and practicing flexibility can lead to emotional burnout and strained mental capacity.
Many Roadrunners have also been deeply affected by recent incidents of racism, violence and police brutality. Students, faculty, staff and trustees have spoken out against systemic injustice through the Dialogues series, anti-racism resolutions and more.
Student Karena Beckham, a Clinical Psychology and Counseling major, took a different kind of action. Putting her education into practice, Beckham created a three-part workshop series, supported by Human Resources, to share her personal story of colorism, discrimination and intersectionality, which will also serve as a platform for attendees to share their stories.
"What led me to the brink of my cognitive load was seeing the back-to-back atrocious videos of Ahmad Aubrey and George Floyd being murdered," Beckham said. "Those two events opened a floodgate of personal heartache and pain that I have been harboring in the depths of my soul for years due to my own experiences of racism. Preparing for this (series) has been extremely therapeutic for me. My goal is that participants will feel like they've unpacked some emotional baggage, too, and are able to carry on another day."
"We are so excited to see Karena's series on colorism, discrimination and intersectionality come to life as she shares her story and provides an open platform for others with similar experiences," said Danielle Farrell, assistant director of Learning and Development, who collaborated with Beckham during the series development. "Our ability to understand and reflect upon others' experiences directly correlates to the effectiveness of our equity and inclusion work as a University."
The series is broken into three consecutive parts with each session repeating twice. To benefit from the workshop, please attend one session from Part 1, one from Part 2 and one from Part 3 in order. To promote a sense of closeness and allow time for each person to share, space is limited.
Workshop Series
Part 1 (choose one)
REGISTER Session 1: Oct. 14, 10 a.m.-noon
or
REGISTER Session 2: Oct. 21, noon-2 p.m.
Part 2 (choose one)
REGISTER Session 1: Oct. 28, 10 a.m.-noon
or
REGISTER Session 2: Nov. 4, 10 a.m.-noon
Part 3 (choose one)
REGISTER Session 1: Nov. 11, 10 a.m.-noon
or
REGISTER Session 2: Nov. 18, noon-2 p.m.
Questions can be directed to Karena Beckham at kbeckha1@msudenver.edu.
Topics: Diversity, Events, Human Resources, Inclusion, Save the date
Edit this page