Early Bird
COVID-19 can't stop the Crew in Blue
Members of the MSU Denver welcome wagon adapt to safely showcase the campus and the Roadrunner experience.
October 5, 2020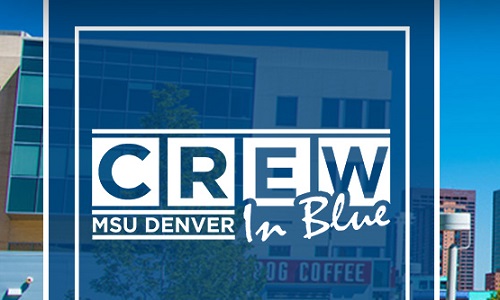 If the COVID-19 pandemic has taught us anything, it's that Roadrunners are resilient. A perfect example of this perseverance and tenacity is the Crew in Blue – an energetic and outgoing group of student leaders who give campus tours and run the Jordan Student Success Building Welcome Desk.
Members have assisted more than 700 in-person visitors to the JSSB Welcome Desk since it reopened in August. To make adhering to health and safety protocols easier (and a little more fun), Crew members and Admissions staff added branded social-distancing floor stickers to the space, featuring Rowdy the Roadrunner, that read, "Keep your beak at least 6 feet," and offer masks featuring the mascot's beak.
Garrett Spradlin, assistant director of Admissions, said before the pandemic that the crew "had to know a little bit about everything." But with new health and safety protocols and campus operations, he said, Crew members have learned even more about the University and have brought customer service to another level.
"The Crew is truly the front line of more offices than you can imagine – and they're students, too," Spradlin said, noting how well the members have adapted to the protocols.
After converting to virtual visits only as the University devised health and safety protocols, Crew members are also back on campus safely sharing the Roadrunner experience with prospective students. Members conduct twice-daily tours on Mondays, Wednesdays and Fridays. These days, however, tours are conducted entirely outside and limited to eight people with masks required.
"I'm happy in-person tours are back. The tours are very easy and straightforward even with the changes," said Haley Gyurko, a Crew member and senior from Arvada.
Gyurko added that she's grateful her job with the Crew is safe as well as easy to fit into her academic schedule. "Since my semester has been chaotic, having that flexibility has been very helpful."
While a little more foot traffic returns to campus, Crew members continue to offer virtual options, too. Since March 30, the Crew and staff have hosted more than 200 virtual visits as well as joined in on virtual admissions presentations, student panels and tours. They even held a few Facebook Live sessions and developed two new offerings: Spotlight Days, which highlight MSU Denver academic departments and other resources, and FocusForward, a webpage that outlines six ways prospective students can safely contact Admissions.
"It was all about connecting with students and showcasing campus in a different way, while still having the student voice," Spradlin said.
"Regardless of how we are giving a tour, we all love sharing our favorite things about campus," said Kaelin Messex, a Crew member and junior from Broomfield. "The biggest struggle was not seeing each other every day. We're all very close, and meeting virtually isn't the same as laughing with each other on campus."
Spradlin added that the Crew continued its work without missing a beat, as prospective students remain eager to learn about the University from current students. "(Current students) are the ones who have the most insight on the true day-to-day experience that MSU Denver provides," he said.
Messex agrees. When she visited the campus as a prospective student in spring 2019, the Crew's welcome won her over instantly. "I knew this is where I wanted to be," she said.
After her tour, she e-mailed Crew members to thank them for their energy and kindness. "I fell more in love with the campus. I remember thinking how caring everyone was and how I wanted to be able to spread the same joy," she added.
And after joining the Crew, Messex became even more passionate about sharing the University with others.
"I really enjoy talking with people and sharing my passion for (MSU Denver)," she said. "Being a part of the Crew has taught me many lessons. One being (that) no matter what our differences are, there is always something to connect us."
Topics: Community, Health, Safety
Edit this page