Early Bird
MSU Denver leaders discuss Committee on Sustainable Racial Justice
Albus Brooks, Mario Carrera and David Fine visit the Association of Governing Boards podcast to talk about racial justice in higher education.
October 28, 2020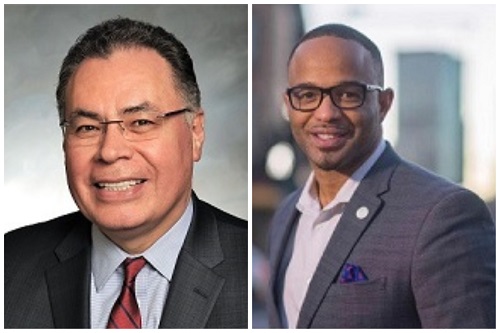 Metropolitan State University of Denver Trustees Mario Carrera and Albus Brooks and Board General Counsel and Board Secretary David Fine, J.D., joined the Association of Governing Boards' Trusteeship Radio podcast recently to discuss the formation of the Committee on Sustainable Racial Justice. The standing committee, comprising all trustees, formed this semester to provide oversight of the University's efforts to become an anti-racist organization in service to students and mission.
"If we're going to achieve our full potential as an institution, we must stand for social justice, the rule of law and the promotion, growth, development and the defense of our democracy," Carrera told podcast host Barbara Jones. "We need to educate ourselves and act on the causes and remedies of systemic racism around us as individuals and collectively."
Carrera noted that the COVID-19 pandemic has highlighted and accelerated social inequities, while systemic social injustices are driving higher-education leaders to develop, sustain and improve diverse representation within their own institutions.
"We're going to hold ourselves accountable first," Brooks added. "We're going to measure the work we're doing, and we want the impact to be to the student. We want the student to experience the justice and the policy changes that we're working on."
Listen to the podcast to learn more about the committee's goals with regard to infrastructure, representation, policy improvements, impact to students, funding and more.
Topics: Board of Trustees, Community, Diversity, Excellence, Inclusion
Edit this page