Early Bird
Optimizing student success
The Enrollment Command Center hosts the next Data Series event Nov. 4.
October 28, 2020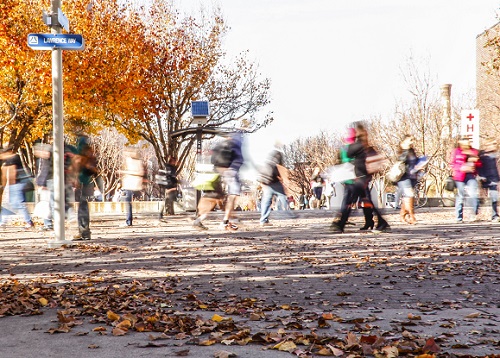 Metropolitan State University of Denver supports one of the most diverse student bodies in Colorado. Faculty and staff members work tirelessly to keep students and their success at the core of our work. Providing high-quality, accessible, enriching education is challenging, but there are new resources to aid our work.
The Enrollment Command Center Data Series will continue its work to connect the MSU Denver community with current and relevant data and best practices. The November presentation will feature Sean Petranovich, Ph.D., director of Data and Analytics, who has developed a predictive model related to student retention. The model focuses on finding patterns in certain key indicators influencing student success and retention. By better understanding these patterns, we aim to uncover some of the circumstances contributing to positive student experiences and to seek out areas where we can best assist students where they may need additional support.
"The use of data and predictive analytics is ubiquitous in all areas of contemporary life," said Petranovich. "By including these in our University's strategic toolbox, we're using modeling techniques to optimize student success."
Join us via Teams to learn more about how MSU Denver is leveraging data analytics to help inform practice and planning.
Key highlights for attendees include:
Improving understanding of what MSU Denver is doing to strategically intervene to achieve student and institutional educational goals.
Learning how the model findings are being used to understand patterns of student behavior and decision-making.
Identifying actions already being taken based on predictive information.
Considering ways your area/department is making decisions using predictive data.
Enrollment Command Center Data Series
Predictive Analytics and Student Retention

Nov. 4, 3-4 p.m.
Also, don't forget to mark your calendars for Dec. 8 at 3 p.m. The last ECC Data Series presentation of the semester will provide further insights into student data and developing trends. If you or members of your team have questions, please email Mark Baccei, Ph.D., research analyst, Enrollment Management.
Topics: Enrollment, Events, Save the date, Student Enrollment Management
Edit this page