Early Bird
Share your thoughts on Strategic Plan 2025
Strategic Planning Team seeks feedback on draft plan, with vision statement, five pillars and corresponding goals.
October 28, 2020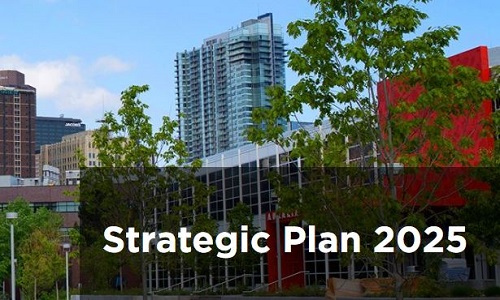 Metropolitan State University of Denver's Strategic Planning Team is seeking feedback on the Strategic Plan 2025 draft. Faculty, staff, students, alumni and business and community partners are encouraged to visit the Strategic Plan 2025 website to review the draft and fill out a survey regarding vision statement, pillars and goals.
"The team has done an excellent job of gathering feedback from a broad section of the campus community over the last year and a half," said Matt Makley, Ph.D., chair, History, and co-chair of the SPT. "But now, we are circling back to make sure anyone who wants to can offer feedback."
At the heart of the Strategic Plan 2025 document are five pillars that hold up the rest of the plan. They are Student Access, Service and Achievement; Student-Centered Academic Excellence; being a Civic and Economic Catalyst; Diversity, Equity and Inclusion; and Organizational Agility and Sustainability.
Each pillar is sponsored by one or more members of the Senior Leadership Team, who will work with the SPT and other strategic contacts across the University to continue refining the goals and strategies for each pillar, including defining measurable data points.
"After an unexpected year that required the Strategic Planning Team to pause its progress and focus on COVID-19 response, we are very happy to share this critically important draft document with the University community," said Cathy Lucas, vice president of Strategy and External Affairs and co-chair of the team. "Your input is essential in ensuring that the plan truly reflects who we are as a University, where we're going and how we will continue to keep students at the center of our mission even in a changing world."
The committee will integrate feedback throughout November and present the final plan to the Board of Trustees in December. The plan is expected to go live in January.
All members of the campus community are invited to share feedback and follow the Early Bird for additional updates.
Topics: Community, Inclusion, Inclusive leadership, Strategic Planning
Edit this page