Early Bird
In memoriam
MSU Denver mourns the passing of Paul Sidelko, Ph.D., professor of history.
October 26, 2020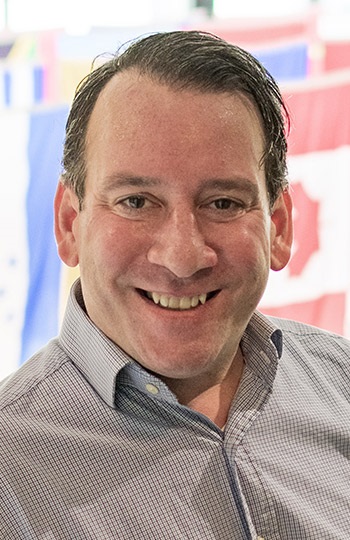 Paul Sidelko, Ph.D. – a beloved son, uncle, brother, friend, professor and colleague – passed away last week at the age of 53. Sidelko was a professor of history at Metropolitan State University of Denver, where he taught courses on medieval Europe, Islamic cultures and the modern Middle East.
A dedicated academic with a passion for history, Sidelko spent more than 20 years in higher education. Prior to joining MSU Denver, he taught at the University of Toronto, the University of New Mexico, the University of Colorado Denver, the University of Louisville and Grand Valley State University. He accepted a position as an assistant professor with MSU Denver in 2006 and was promoted to full professor in August 2019.
Sidelko had a brilliant intellect, which he joyfully shared with students. He was never afraid to express himself, especially when it came to supporting MSU Denver students. Former student Cardinal Tomczyk described Professor Sidelko as "an inspiring intellectual with a great love of his chosen subject."
"He was open and opinionated yet not only willing to listen to his students but genuinely interested in what opinions they had to offer," Tomczyk said. "This made class time a pleasure."
Sidelko dedicated himself to developing study-abroad opportunities, and his own work took him to the United Arab Emirates, Oman, Egypt, Turkey, Jordan, Israel, Morocco, Indonesia and Sri Lanka. Sidelko also served as the treasurer of the Fulbright Association of Colorado and was a member of the Mediterranean Seminar, the Medieval Academy of America and the Middle East Studies Association.
He was also fundamental in helping to shape the Individualized Degree Program at MSU Denver. He helped countless students carve unique paths to IDP degrees. One of his IDP students, Naweed Hoshmand, said, "He was always supportive and never really stopped advocating for us to use our voices and say what we felt must be said."
As a researcher, Sidelko focused on medieval and modern periods of history in the Middle East and North Africa, including Turkey and the Mediterranean. Topics that drew his focus included the Arab Spring, the complex diversity of Islamic societies, Muslims in North America, the Arab-Israeli conflict, Iran and Iraq – as well as the Middle East during WWI, WWII and the Cold War. He authored several publications and often presented his research on campus and around the world.
Sidelko earned a bachelor's degree in Medieval Studies with emphasis on history from Swarthmore College in 1989, followed by a master's degree in Medieval Studies, Latin, French, German and Arabic at the University of Toronto. His studies culminated with a doctorate in Medieval European and Islamic History, also from the University of Toronto, in 1998.
He is survived by his parents, William and Delores; his brother John and sister-in-law Rebecca; nephew Clayton; and dogs Thayni and Walis. The Sidelko family and Paul's many friends ask anyone who would like to remember Paul to give a donation in his name to support refugee students and immigrant services at MSU Denver.
Giving to the MSU Denver Foundation online is secure and easy, and since the foundation is a 501(c)(3) organization registered and in good standing with the IRS, your gift is tax-deductible in the manner and to the extent provided by law. Please consult your tax advisor. Thank you for supporting our students and programs. Please note: MSU Denver Corporate Cards may not be used.
Topics: Academics, Community
Edit this page