Early Bird
Inside the President's Cabinet
The Wednesday meeting covered spring planning, employee awards, student retention initiatives and more.
October 22, 2020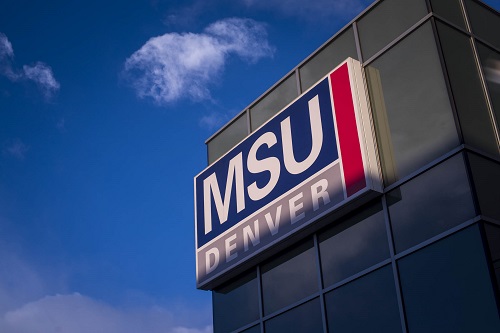 President Janine Davidson, Ph.D., began the October meeting of the President's Cabinet on Wednesday with an update on Metropolitan State University of Denver's ongoing response to the COVID-19 pandemic. Davidson highlighted the University's efforts to align with constantly shifting state and local health and safety protocols in the face of an uptick in new cases.
"When we decided to move most courses online for fall, we knew that there was a high likelihood for a fall resurgence of COVID-19," Davidson said. "Today, Colorado is among the top five states seeing a resurgence, and younger people are getting COVID-19 in larger numbers."
While hospitalizations and fatalities are down and treatments appear to be working, the University is remaining vigilant. Efforts to return 10% of courses to the campus this fall under strict health and safety protocols have been effective, as evidenced by the fact that there have not been any major outbreaks.
Speaking to employee concerns about returning to campus, Davidson noted that a full-scale return is not part of the University's spring plan. However, she said this semester has shown that people can return to campus safely. She noted that the University is not prohibiting employees from coming to campus if they need to do so but asks that they follow the processes and protocols in place to keep them safe. Among those, she emphasized three: wearing a mask, social distancing and using good judgment.
Preliminary plans for spring include increasing the number of on-campus classes using health and safety lessons learned and best practices developed during the current semester. University leaders will continue communicating with local health officials and will disseminate any new information as guidance changes.
Employee recognition
Several employees were recognized during the Cabinet meeting for their significant contributions to student success and University operations. Davidson highlighted Roadrunner Shoutout of the Week winners and reminded everyone to submit nominations.
Davidson also gave the President's Team Award to members of the Homecoming Planning Committee, including:
Mike Hengst, director of Brass and Percussion Studies
Kylie Henson, special events coordinator
Diana Ibarra, assistant director of Student Activities
John Kietzmann, associate director of Athletics Marketing and Promotions/External Relations
David Lamothe, assistant director of Recreation and Leadership
Traci McBee-Rowe, director of Donor Relations and Advancement Special Events
Cora Potter, manager of university events and protocol
Guillermo Ramirez, assistant director of Fraternity and Sorority Life
Brandi Rideout, director of Alumni Relations
Amanda Ryder, associate director of Admissions.
Davidson applauded members' work to shift a week of activities online and their developing events and initiatives that demonstrated sensitivity to the many challenges presented by COVID-19.
Advisory-council presentation
Council of Academic Excellence and Student Success co-chairs Kristy Lyons, Ph.D., and Sean Petranovich, Ph.D., presented efforts to engage faculty members in student retention. The CAESS, a diverse group of faculty and staff members, gathered student-retention awareness data from faculty members, finding that they largely care about supporting student retention but are also underinformed and desire specific guidance.
In response, CAESS members created a retention communication guide for faculty, developed a faculty associate for retention position description (prior to COVID-19-related budget reductions) and began publishing the "On the CAESS" series in the Early Bird. The group also proposes the development of a self-directed retention training guide for faculty that will aim to increase awareness about retention statistics, resources and best practices, while encouraging reflection, dialogue and action. Members are finalizing the training guide's objectives and seeking input from various campus groups. They hope to pilot-test the guide with a few departments before widespread distribution.
Lyons also noted that the goal is not to increase faculty workloads but to give suggestions for building retention strategies and techniques into announcements, lectures, syllabi, advising appointments and more.
Homecoming and Advancement report
Jamie Hurst, J.D., assistant vice president for Strategic Engagement, and Brandi Rideout, director of Alumni Relations, presented on Homecoming Week 2020 successes. Using the theme of "Roadrunners Rise" to showcase all the ways members of the MSU Denver family have risen to the challenges presented by COVID-19, racial injustice and more, the week of virtual events celebrated Roadrunners' commitment to caring for one another and their communities.
The Socktober giving event raised $10,000 for the Student Emergency Fund, bringing the total raised for the fund to more than $100,000 since the onset of COVID-19.
The virtual Alumni Awards, attended by 150 people, celebrated distinguished young alumni as well as the Philanthropist of the Year and Volunteer of the Year.
Roughly 630 people participated in online events throughout the week.
More than 140 Roadrunners safely volunteered during Roadrunners Give Back Day.
Strategic Plan 2025
Strategic Plan 2025 co-chairs Cathy Lucas and Matt Makley, Ph.D., presented a draft of the plan's vision-statement pillars to trustees last week and are working with them to produce a final draft. On Friday, the Strategic Planning Team will conduct a final review of the draft vision-statement pillars and goals. Next week, committee members will begin seeking feedback on the vision statement and goals from stakeholders. The draft plan will also be posted on the Strategic Plan website for community feedback.
The committee will integrate feedback in November and present the final plan to trustees in December. The plan will go live in January.
Announcements and updates
Roadrunners are encouraged to attend today's Presidential Speaker Series event with Lt. Gen. H.R. McMaster at 11 a.m.
Remember to vote by turning your ballot in early. There is an official ballot drop box outside the Tivoli Student Union, and MSU Denver is actively polling the University community to better understand voter engagement.
Check out this great video on how students are adapting to online learning.
The Higher Education Diversity Summit will take place Wednesday through Oct. 30.
A new fall advertising campaign debuts soon, highlighting graduate programs and key undergraduate programs and inviting students to be part of the solution to get communities and economies back on track post-COVID-19.
Spring and fall 2020 Commencement activities will be virtual. Specialty and department-level ceremonies will also take place online.
The Student Government Assembly will host a town hall Tuesday to discuss Commencement concerns, COVID-19 safety, post-election programming and support, spring 2021 prep and more.
The Faculty Senate recently passed the Liberal Arts Resolution reaffirming MSU Denver's mission as a liberal-arts institution and requesting equitable budget allocation across all areas. Senators also passed an Election Day Resolution encouraging instructors to refrain from holding tests or introducing new critical info on Election Day to reserve that day for participatory democracy.
The Faculty Handbook committee has forwarded RTP/PTR revisions to Davidson. Changes can be implemented upon Davidson's approval per the Board of Trustees.
Priority registration opens Monday.
Student-athletes have completed more than 500 hours of service to the Denver community in the past two months. Student-athletes are now seeking donations for hygiene kits. Watch the Early Bird for more details.
Human Resources recently shared valuable information in the Early Bird on annual compensation letters, and Roadrunners should stay tuned for more details on Open Enrollment and the 2020 Years of Service celebration.
Topics: Inclusive leadership, President's Cabinet
Edit this page