Early Bird
What is your voting status?
Share how you are casting your ballot to help the University better understand Roadrunners' voting engagement.
October 21, 2020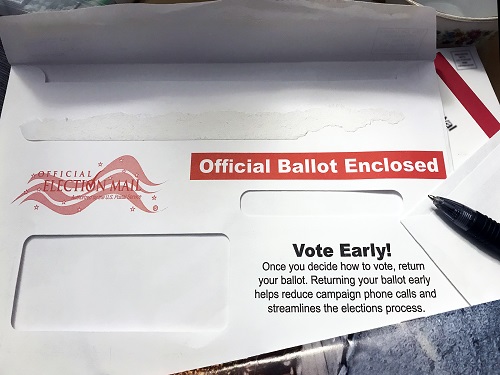 This election year, record-breaking numbers of Americans are participating in early voting. As of Monday, news outlets reported that more than 26 million Americans had already cast ballots in the 2020 election.
In Colorado, more than 640,000 voters have submitted their ballots early – more than five times the number of ballots returned in the 2016 election during the same time frame.
Metropolitan State University of Denver is a leader in student voting and encourages all Roadrunners to cast their ballot early. Share your voting status to help the University better understand Roadrunners' voting engagement and look for the results in Monday's Early Bird and up until Election Day on Nov. 3.
Meanwhile, if you haven't voted, check out voter resources and upcoming election events.
MSU Denver in 2016 was recognized by the All In Democracy Challenge for having the highest undergraduate voting rate in the presidential election among more than 1,000 participating colleges and universities. Over the past four federal elections (2012-18), Roadrunners voted at a rate 17 percentage points higher than the national average of participating institutions.
"MSU Denver's robust efforts this year to increase voter turnout by students distinguishes the University as a leader among Colorado universities and colleges in successful civic engagement," said Elizabeth Parmelee, Ph.D., associate vice president of Undergraduate Studies, who leads the University's civic-engagement efforts. "MSU Denver is optimistic that it can increase student voting rates even higher in 2020 – and maybe take home honors in the Colorado Secretary of State's challenge."
The University launched an initiative to encourage students to vote by Oct. 20 and held in-person and digital voter-registration events. A Sept. 24 digital voter-engagement happy hour featured Denver City Clerk and Recorder Paul Lopez, who challenged Coloradans to consider their vote one step toward building the city, state and country they want to live in.
Topics: Community, Excellence
Edit this page