Early Bird
Staff Senate recap
Senators fill vacancies and receive overview of upcoming Higher Learning Commission accreditation evaluation.
October 20, 2020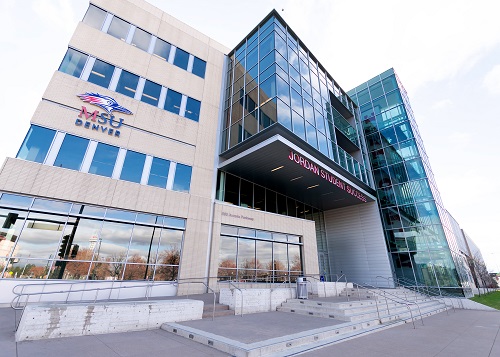 The October meeting of the Metropolitan State University of Denver Staff Senate began by welcoming three new senators to the body. Student employees Pattrica Serrano-Bann and Samuel Britz were approved by fellow senators to serve in at-large positions, while Catherine Break, study-abroad advisor, will represent Academic Affairs.
Members also discussed potential policy to allow senators to take temporary leaves of absence from Staff Senate duties, provided they secure a proxy from their division. Staff Senate leadership researched similar leadership groups and processes at other institutions to develop the language and parameters.
University reaccreditation process
Senators welcomed Kim Barron, associate vice president of academic effectiveness, to discuss the upcoming Higher Learning Commission comprehensive evaluation and the necessary preparation. Barron is also the accreditation liaison officer for MSU Denver and laid out the importance of institutional accreditation.
"The purpose of accreditation has to do with students being assured that the university they attend – or are considering – meets specific standards," Barron said. "And of course, employers frequently require verification of candidates' undergraduate degrees and need to know they reflect a specific standard of quality."
Accreditation also establishes the value of transfer credits and ensures that MSU Denver as an institution and our students continue to have access to federal funds such as Pell grants, federal loans and more.
"It's a high-stakes relationship and one we work on continuously" Barron said.
The criteria for accreditation include mission, integrity (ethical and responsible conduct), teaching and learning (quality resources and support), teaching and learning (evaluation and improvement) and institutional effectiveness. These comprise more than 80 components and subcomponents, and all will be addressed in an "assurance argument" that will be provided to the Higher Learning Commission.
MSU Denver completed a comprehensive evaluation in 2017 at the end of the institution's 10-year accreditation cycle. While all criteria for accreditation were met, MSU Denver was not offered the option to move from Standard Pathway to Open Pathway for our next accreditation cycle. The Standard Pathway includes two comprehensive evaluations in a 10-year cycle.
Barron expects to have a draft of the University's assurance argument available by the end of December. All members of the campus community who want to contribute to the process will have the opportunity to do so.
The comprehensive evaluation will take place in April. This will include open forums for different campus groups April 26 and 27. Stay tuned for more details soon.
Committee updates and announcements
In committee updates, senators were briefed on recent decisions and progress from the September Budget Recommendation Meeting, including enrollment data, student-employee pay raises and more. The next meeting is Friday, and all meetings are open to the campus community.
Maggie Thulson, vice president, Staff Senate, shared updates from the Staff Senate Policy Review Committee and the University Policy Advisory Committee, noting that the groups are considering a potential alternative work-arrangements policy. The Staff Senate Policy Review Committee is also soliciting new members.
The Staff Senate Communication Committee is seeking ways to improve communication access to all constituents and is exploring more centralized communication spaces.
The Elections Committee is working to clarify bylaw language regarding election ties and to increase staff participation in elections. The group is also documenting the election process to improve future elections.
The format of Staff Senate working sessions will change. The first 30 minutes of each meeting will now be designated to Staff Senate business, with the following hour focused on committee work.
The Taking Care of You campaign now has 20 committee members. Watch the Early Bird for more information on self-care, resources and wellness.
Don't forget to register for the Higher Education Diversity Summit from Oct. 28-30 and submit nominations for the Martin Luther King Jr. Peace Awards.
Learn more about the Staff Senate by visiting the group's SharePoint page.
Topics: Inclusive leadership, Staff Senate
Edit this page