Early Bird
A central hub for all things enrollment
Enrollment Command Center takes the place of SEM Council. Here's what you need to know about the move and trends in recruitment/retention from the first ECC Data Series event.
October 20, 2020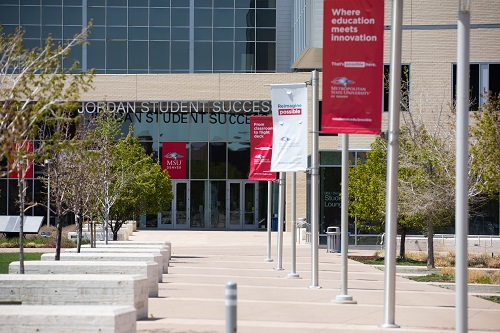 Metropolitan State University of Denver's Enrollment Command Center has taken the place of the Strategic Enrollment Management Steering Council as a hub for all things enrollment.
"During the pandemic, the University realized we needed to focus on short-term strategies, so we pivoted like everyone else," said Mary Sauceda, associate vice president of Enrollment Management at MSU Denver. "Additionally, we've added folks to ensure that equity and online-delivery platforms are included in the conversations we're having."
The move was also to better align the University's ongoing strategic-planning process with subsequent long-term enrollment strategies, she added.
This shift was the topic of the first ECC Data Series presentation, which took place Oct. 7, led by Sauceda and Michael Nguyen, director of Enrollment Systems and Operations. They discussed the structure of the ECC: a steering committee, coordinating with Recruitment and Retention Councils (and respective subcommittees), all working in conjunction with a Data Team.
The Recruitment Council is co-chaired by Vaughn Toland, executive director of Admissions and Outreach, and Daniel Lair, professor and chair of Communication Studies. It focuses on four action items: market segmentation, process improvement/communications, intercampus collaboration and flexible study options. Trends discussed in the Data Series event focused on the current pandemic landscape, including students taking a "gap year"; focuses on affordability, flexibility and proximity; and building on the virtual environment.
Slate implementation to improve user experience in areas such as Financial Aid, Orientation and transfer evaluation was also noted as an improvement.
The Retention Council is co-chaired by Nahum Kisner, director of Student Support and Retention, and Jason Janke, interim dean of the College of Letters, Arts and Sciences. The council members reported they began by grouping specific populations – transfer students, adult, first-generation, high school, low-income, etc. – and then identifying specific enrollment barriers for each. Pivoting to a short-term focus meant looking at fall-semester and gap-year options, resulting in successful efforts including calling campaigns, early-alert outreach, a student-success pilot course, peer-mentor support and FAFSA-completion initiatives.
Future retention efforts are slated to reassess the ongoing action plans and work on a forthcoming "journey framework" to create checkpoints and core experiences to propel students to success and degree completion, zigzaggy lives and all.
ECC Data Series meetings are open to the MSU Denver community; the Nov. 4 offering is on applying predictive modeling to student retention. It's all part of MSU Denver's strategy to remain responsive to unprecedented times and meet Roadrunners' needs where they are.
"Enrollment is such a huge factor that cuts across the entire University," Sauceda said. "Having a centralized place to connect everyone with new ideas and the great things already happening across campus benefits so many involved – especially our students."
Topics: Enrollment, Registration, Retention, Student Enrollment Management, Student Success
Edit this page