Early Bird
Richard Mac Namee directs innovative Cyber Range
The cybersecurity training ground prepares students and industry partners to learn real-world skills in a safe, secure online environment.
October 15, 2020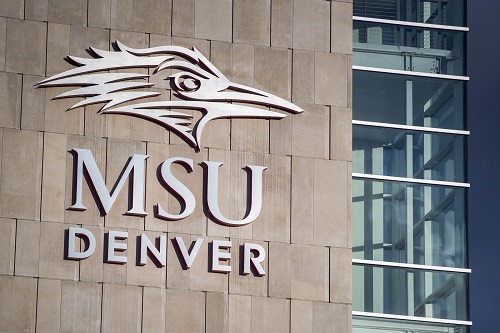 Richard Mac Namee joined Metropolitan State University of Denver in May as director of the Cyber Range (TCR@MSU Denver), an interactive, simulated environment that will serve as a cybersecurity training ground for students and industry professionals. As director of TCR@MSU Denver, Mac Namee will support and develop hyperrealistic training to complement the University's already-robust cybersecurity courses, making students and industry users more marketable, proficient and effective in the workplace.
"The Cyber Range often represents an organization's local network, system, tools and applications," Mac Namee explained. "The range environment includes not only simulated internet traffic but also replicates webpages, browsers and email. It provides trainees (an opportunity) to gain hands-on, real-world cybersecurity skills in a safe, secure and legal environment."
Mac Namee is an ideal fit for the director role. He previously served as a Special Operations commander and operator, disrupting terrorist organizations and crime syndicates accessing mobile global-communication networks. He later used that experience to develop tech solutions for protecting people and assets.
Mac Namee spoke with the Early Bird about his plans for TCR@MSU Denver and why he was excited to become a Roadrunner.
Early Bird: How will TCR@MSU Denver prepare students for cybersecurity careers?
Mac Namee: TCR@MSU Denver will provide performance-based learning and assessment in a simulated environment where students can work together to improve teamwork, test ideas, solve complex problems and get real-time feedback. It will also allow students to gain hands-on experience with the commercial-grade security tools they will be expected to be proficient with on arrival in the workforce. This will reduce the training burden for employers, (making) our students more attractive hires.
Early Bird: Why were you interested in this position and in joining MSU Denver?
Mac Namee: Human dependency on the use of technology is growing exponentially. One can only imagine what life would be like were we to experience a cyber pandemic with similar reach to that of COVID-19. I, therefore, see cybersecurity as a critical domain in which … we must have a highly qualified workforce (that) is proficient at protecting the services on which we have become dependent.
When I considered MSU Denver, which was at the start of COVID-19, I saw an inclusive and energized University that was willing to step up to challenges and lean into problems. I witnessed innovation and an opportunity to be able to help students in unprecedented and trying times.
Early Bird: What progress have you made since joining the University in May?
Mac Namee: Since starting my role in the middle of the pandemic, I have identified two cyber range systems that meet our immediate needs and requirements. I then "went to market" to source funding to assist in operationalizing TCR@MSU Denver. The challenge has been doing so in an economy that has contracted by 32.9% (at an annualized rate in the second quarter) as a direct result of COVID-19 – and whilst what we are proposing to industry partners is groundbreaking, it has yet to translate into a pledge or commitment to financially support MSU Denver in its efforts.
To that end, I have had to develop some creative business-modeling solutions involving the partnering with another university under a Memorandum of Understanding and identifying a private-sector joint-venture partner who might be willing to provide the service if MSU Denver provides the infrastructure.
In addition, I have started MSU Denver's application to become (a National Security Agency) Center of Academic Excellence in Cyber Defense Education. There are many benefits to be derived from this prestigious designation, including opportunities for student scholarships and grants through the Department of Defense Cyber Scholarship Program and the Federal Cyber Service Scholarship for Service Program. If granted, MSU Denver would be the only Hispanic-Serving Institution to have achieved this designation.
Early Bird: What are your goals for the program, and how might you work with partners either on or off campus to achieve them?
Mac Namee: The medium-term goals are to be able to offer "Range Time" via our MOU partnership. This will be achieved virtually and will also afford us more time to engage with private-sector partners in what we hope to be a healing economy and, by default, a willingness on the part of industry partners to consider using and supporting the on-site TCR@MSU Denver.
For the long term, I would like to establish a center (that) houses our academic programs and TCR@MSU Denver, drives research and innovation and secures our NSA-CAE-CDE designation, an accolade whereby universities are formally recognized by the U.S. government for their robust cybersecurity-related programs.
Topics: Criminal Justice and Criminology, Cybersecurity, Excellence, Technology
Edit this page